How To Preserve Historic Landmarks: Steps 3-6
From maintaining a project list to determining the facility condition index, these steps are critical for facility managers endeavoring to preserve historic buildings.
OTHER PARTS OF THIS ARTICLE
Pt. 1:
10 Best Practices To Preserve Historic Landmarks
Pt. 2: This Page
Pt. 3:
Run The Building Like a Business: Steps 7-10 for Preserving Historic Landmarks
Pt. 4:
Historic Preservation Success Story: Frank Lloyd Wright's Darwin Martin House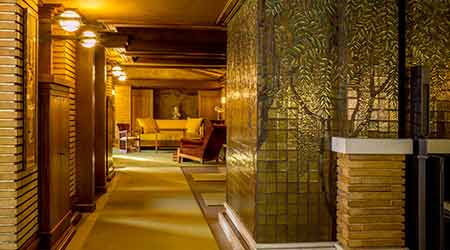 3. Maintain a Small Project and Large Project Capital List
Each year the facility manager should develop an updated list of small, medium, and large capital projects to be completed at the site. While master plans are common and necessary to create a long-term vision for historic site, many times these plans require large amounts of public funding and take years to implement.
A capital projects list will identify small projects such as paint touch-ups, gutter repairs, handrail repairs, or chipped concrete stairs and sidewalks. These smaller projects may be completed by on-site maintenance staff as preventive tasks during their down time.
Medium-size projects may require the expertise of a building contractor. These projects include water-damage repair, roof repairs, window replacement, HVAC issues (too hot/too cold), lighting upgrades, or chronic plumbing issues. Typically these medium sized projects may be completed by a single contractor for less than $10,000.
Large capital projects include complete roof replacements, HVAC equipment replacement, electrical distribution repair or replacement, large-scale building foundation or wall repairs, and underground storm and sanitary sewer repair or replacement. Each project should be captured on a comprehensive list that includes digital photos and estimated constructed value. The list should be organized and prioritized based on code compliance, life safety, useful life, aesthetic need, or energy savings opportunity. The list should be updated annually with the management team approving projects to be completed for that fiscal year in line with budget.
4. Institutionalize Knowledge
There are always one or two senior maintenance technicians who know the building better than anyone else. The location of the shutoff valves for city water, the hidden submersible sump pump that prevents basement flooding, or the end-of-main steam trap that guarantees condensate is properly returned to the boiler are all examples of specific site information. This is often referred to as "tribal knowledge." There are also the daily tasks that are regularly completed by an experienced staff that become so routine they don't need to be written down. It is a large undertaking, but recording this knowledge and "institutionalizing" the information is an important factor in creating a user's manual for future stewards of the site.
5. Create Awareness that Physical Indicators Demonstrate Stewardship
The cleanliness and aesthetics of a historic building are the key positive indicators to site visitors about the overall management of a facility. Water stains on the ceiling, cigarette butts or debris on the outside walkway, chipped paint on a handrail or window trim, or a broken gutter are all physical indicators that the facility may be suffering from deferred maintenance or worse. The diligence of the site staff is the first line of defense against complacency and demonstrates to all how a well-run institution is clean and efficient, both inside and out.
6. Determine the Facility Condition Index
How does a building owner, or curator of a historic landmark, determine the capital funds that need to be invested back into the facility on an annual basis in order to maintain the long term value of the property? The facility condition index was developed to provide a benchmark to compare the condition of a group of similar facilities in order to create a simple industry standard. The facility condition index is calculated by identifying the building's current maintenance and repair expenses and adding the total cost of the building deficiencies (provided through a building condition assessment). This figure is then divided by the building's current replacement value. The term was first used in the book Managing the Facilities Portfolio, published in 1991 by the National Association of College and University Business Officers. Over the years a set of ratings — good (under 0.05), fair (0.05 to 0.10), and poor (over 0.10) was established to be used by facility managers to develop annual operating budgets and capital construction budgets for their properties.
Continue Reading:

Historic Landmarks

10 Best Practices To Preserve Historic Landmarks

How To Preserve Historic Landmarks: Steps 3-6

Run The Building Like a Business: Steps 7-10 for Preserving Historic Landmarks

Historic Preservation Success Story: Frank Lloyd Wright's Darwin Martin House
---
---
---
Related Topics:
Comments