You Might Like
On FacilitiesNet
How To Choose The Right Facility Management Credential
Time and cost are always hurdles, but choosing the right FM credential starts with looking at your ultimate goals.
OTHER PARTS OF THIS ARTICLE
Pt. 1:
Facility Management Credentials: What You Need To Know
Pt. 2:
Credentials Hold Value for Facility Manager, Employer
Pt. 3: This Page
Pt. 4:
Judging the Value of an Facility Management Credential
Pt. 5:
ProFM Credential Makes Its Debut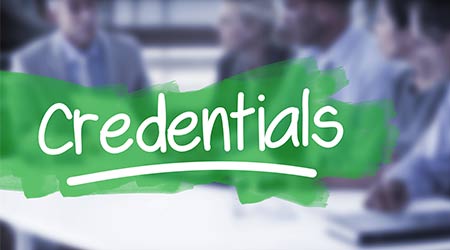 With limited time and resources to devote to obtaining a credential, a facility manager needs to weigh the pros and cons of pursuing one and decide whether the investment has a potential pay-off.
A place to start is an honest assessment of one's ultimate goal. If individuals are interested in moving up within the facility management organization and need a competitive edge to stand out against internal and external competitors, then a credential may provide the vehicle to make a statement about commitment to career aspirations, professional drive, determination, and desire for additional knowledge, skills, and abilities. If the goal isn't necessarily to move up within the organization, but merely to gain additional knowledge, skills, and abilities in a particular area, then pursuing a credential may also prove to be the best avenue to achieve that goal.
It's also important to consider the stage of one's career. In today's environment, some may be contemplating retirement from long-term employment in a facility management organization, but not necessarily retirement from the profession altogether. When a second career with an outsourcing or technical services firm may be the next stage of a career, having leading edge expertise obtained through a credential program may be the answer. Years of experience in facility management, coupled with a new credential in a specialized area, add strength to a resume in the job market.
For those not considering retirement, a company's reward and value system is another factor to be weighed. When facility managers work in a corporate environment that rewards knowledge and performance, adding credentials to resumes makes a lot of sense. Understanding what the company values in its employees and how it rewards them for demonstrating this value should play a role in making a decision about the need for a credential.
Anyone thinking about certification should also evaluate how a credential is obtained and how the learning environment is structured. A credential that can only be obtained by instructor-led classroom participation may not be a good fit for an individual who travels extensively. A credential program that allows online instructor-led or self-study may be the best option. On the other hand, if facility managers know they are more stimulated by participating with other students in a formal classroom setting, then credential programs offering that type of learning environment should be examined.
Time and money are two other factors to weigh. Honesty about how much time a facility manager is willing to devote to the pursuit of a credential is a critical factor in the decision making process. For anyone constrained by obligations outside of work (i.e., family, civic, and social commitments), pursuing an academic degree or even a certification that requires extensive time to read materials and prepare assignments probably is not realistic. A short training program that provides a quick study of a topic and leads to a certificate may be more viable.
Of course, it's important to look at the cost involved in obtaining a credential. Comparing the return on investment is important in deciding whether one credential program provides better value over another.
How facility managers choose to enhance their careers is a personal and complex decision. Having credential programs available to support these goals and needs can be a valuable resource in the decision making process.
The ultimate question to ask is, what are you doing to further your career?
Stormy Friday (stormy@thefridaygroup.com) is founder and president of The Friday Group, an international facilities services consulting firm. She is a member of the ProFMI Commission, a governance body that serves as an advisory committee for the Professional Facility Management Institute's (ProFMI) activities. Friday has written a book on facilities management and co-authored another.
Email comments and questions to edward.sullivan@tradepress.com.
Continue Reading:

FM Career Development

Facility Management Credentials: What You Need To Know

Credentials Hold Value for Facility Manager, Employer

How To Choose The Right Facility Management Credential

Judging the Value of an Facility Management Credential

ProFM Credential Makes Its Debut
---
---
---
Related Topics:
Comments