How Health and Wellness Complements Sustainability, Resilience
The best way to get upper management on board with health and wellness strategies is to show how it also contributes to other facilities goals, like sustainability and resilience.
Not everything in the post-pandemic world will be completely new. Many long-term changes to how facilities are designed and operated will simply require a higher level of focus on strategies that had started to become important pre-pandemic: daylighting, access to outdoor space, advanced air filtration, enhanced indoor environmental quality, better disinfection and specialized cleaning, and many more.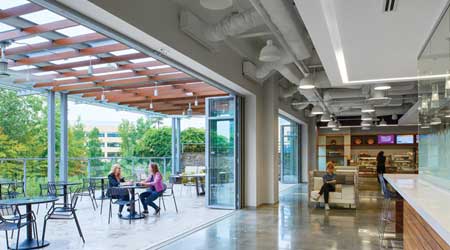 Ryan Kurtz Photography
If many of these strategies sound familiar, it's because they've been part of many designers' and facility managers' green building plans for a long time now. But there will be a renewed focus on these areas of health and wellness that complement sustainability. "Improved air quality strategies may increase and regain priority — especially in light of COVID-19 being specifically linked to respiratory syncytial virus (RSV) symptoms," says Amy Leigh Hufford, interior designer for NELSON Worldwide. "These could include increased access to outdoor air, increased and improved air filtration, responsible material sourcing of non-VOC goods, and biophilic features such as moss that removes both toxins and particulates from the air."
Renewed focus on increased daylighting, views of nature, and higher prevalence of biophilic elements in design are prominent strategies both in health and wellness and green building rating systems. The benefits of these strategies for health and wellness — better concentration, higher productivity, improved mental health, and many more — are well documented. As well, improved energy efficiency and better indoor environmental quality are just two of the green building benefits that pay off.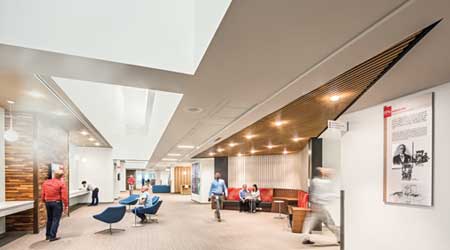 (Design so natural light, as through skylights and floor to ceiling windows, will enter the workspace to aid mental health, focus, better sleep at night for occupants, and productivity. Credit: Cory Klein Photography.)
"LEED and WELL go hand in hand, they're complementary," says Scialla. "They don't play off each other, they play with each other. Using WELL is not a tradeoff, it's really completing the sustainability equation." That's why, says Scialla, a large majority of the first crop of WELL-certified buildings are also LEED-certified.
The U.S. Green Building Council also announced it will add LEED Pilot credits on an ongoing basis as needed for strategies like social distancing, nontoxic surface cleaning, and air quality and infection monitoring, deepening the connections between LEED and health and wellness strategies post-pandemic.
Facility resilience as it relates to health and wellness strategies in buildings will also move to center stage. "Building wellness into an environment builds resilience," says Carney. "You'll need to work on rewriting disaster plans and building resilience into your company. Facilities managers will need to brainstorm ideas for these 100-year events."
Health and wellness, then, is at the center of the Venn diagram of sustainability and resilience. And if health and wellness wasn't important before, it certainly will be now in the post-pandemic future. Even after we've managed to get through this one, the threat of another, possibly even more disastrous, global pandemic still remains. And so, be prepared. Facility managers well know that their entire mission is suiting the building to its organization's goals and culture. At its base level now and into the future, that'll mean situating the building to keep its occupants healthy, to prevent infection, and to provide methods for active wellness.
Email comments to greg.zimmerman@tradepress.com.
Continue Reading:

Cover Story: Health and Wellness

Health and Wellness Will Be the New Normal of Office Buildings

Shift to Health and Wellness Brings Post-Pandemic Advantages

How Health and Wellness Complements Sustainability, Resilience
---
---
---
Related Topics:
Comments