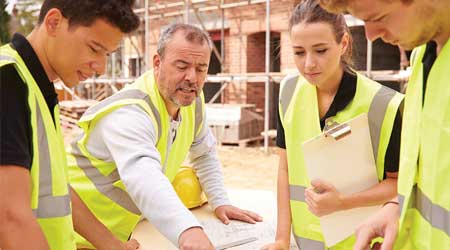 How FMs are Using Internships, Apprenticeships to Develop Talent
If you can't find the right facility manager, build your own. Here's how leading organizations are using internships and apprenticeships to develop the next generation of FM.
As companies look ahead and take stock of the number of available workers for manual and skilled-labor jobs in the coming years, some are taking action to help attract and train potential employees. Facility management departments have also taken this approach, hoping to show students as young as sophomores in high school the opportunities the field has to offer.
The Conference Board, a non-profit research organization, released a report in mid-December that said companies are having more difficulty finding blue-collar workers than white-collar workers, a shortage that is expected to last beyond this year. The worker shortage stems from a variety of factors, including Baby Boomers, who once had many of the blue-collar jobs, continuing to retire at a robust pace. Although the number of blue-collar workers is declining, the report says the demand for those workers has continuously increased since the 2008 financial crisis.
The International Facility Management Association (IFMA) has evidence that there will be between 50,000 and 100,000 available facility management jobs in the next five to 10 years, mainly through growth and retirement, says Jim Zirbel, co-director of the FM Pipeline Team, a group of IFMA chapter leaders, members, fellows, and entrepreneurs who are working to address the skills gap in facility management. In California, about 25,000 facilities-related jobs are expected to open in the next decade, Zirbel says.
"In the last 12 years, I've observed that slowly the (facilities management) industry was seeing a skills gap, with smart buildings that then go dumb if there is no one to care for them," Zirbel says. "All sorts of people in this career path stumbled into it, and now they're retiring. The industry has woken up and realized we need sharp people."
TechTerns
For John Balzer, vice president of facility planning and development for Froedtert Health, the need to foster the next generation of potential employees became clear when Froedtert CEO and president Catherine Jacobson spoke at a business breakfast and was asked what kept her up at night. Without hesitating, Balzer says, she replied that it was the workforce of the future.
That response played a role in Balzer, a former teacher, helping to bring together Froedtert, Mortenson Construction, and CannonDesign to partner with Milwaukee Bradley Tech High School to give the students the opportunity to participate in the planning of the Froedtert and the Medical College of Wisconsin Center for Advanced Care building in suburban Milwaukee. The program, called TechTerns, exposes students to careers in architecture, engineering, and more, says Bridget Kraus, a senior marketing manager for Mortensen.
A group of 18 students were involved in the Advanced Care building over the course of two years, learning from design, construction, and healthcare professionals, as well as skilled trade workers. The students had 11 sessions with the workers, where they learned about everything from building codes and excavation to medical planning and safety.
A second group of 15 students was involved in the Froedtert Integrated Procedural Platform building project, which combines surgical and interventional care areas on a single, centrally located floor in the hospital. The students in the TechTerns program had 10 sessions, including one where they learned about electrical, mechanical, and plumbing systems with hands-on installations.
"Each session, we focused on what was happening on the project or there were activities," Kraus says. "One session we had electricians, plumbers, and dry wall guys, so the students got to install drywall, solder plumbing, install electrical outlets and run Romex into studs, and install flooring. It was all the jobs that go into designing and running a hospital facility. They also got to see the progression of the project, so in large part they got to see it from start to end."
It was important that the students not sit around and instead be in the work spaces and interact with professionals, Kraus says. Lunch speakers were also part of the program, such as doctors who perform heart surgery or human resources staff to discuss how to apply for jobs, she says.
"What was really neat is that they would speak as to why they do what they do and how they got to doing what they do," Balzer says. "The theme was that you're going to be working the rest of your life, so find something that gives you a job and adds value to the world."
The TechTerns program has been so successful that then Wisconsin state schools superintendent Tony Evers, who spent part of a day with the program, said he'd like to see a program like TechTerns across the state, Balzer says. Evers is now governor of Wisconsin.
While Balzer is happy students were exposed to the trades, Froedtert Health also wanted to take the opportunity to expose them to career paths they might not be aware of, such as biomedical engineering. Milwaukee Area Technical College has a two-year program where students can earn a biomedical tech certification and make $60,000 to $70,000 a year, Balzer says.
"We want to entice them and show them many different things that could be doable," he says. "You don't necessarily have to have a four-year degree to get a job that is fun."
University of Arizona
A looming retirement crisis drove the University of Arizona to implement a skills apprenticeship program in 2013 that would build a system of staff replenishment and retention in its facility department, says Jenna Elmer, assistant director of human resources, facilities management, at the university. Interested students, who range from their mid-20s to their mid-40s, must have graduated from high school or earned a GED and complete three assessment tests: reading, math, and aptitude.
Students in the program work at the university fulltime and attend community college classes in the evenings where, depending on their program, they may take HVAC, computer, or automation for controls classes, Elmer says. All the students take safety and basic tools and mechanical concepts.
At the end of the program, graduates enter the workforce as journeymen, Elmer says. When they complete their apprenticeship program, most are a few credits shy of earning an associate degree and many return to school to earn it, she says.
The first class had 12 students who are working as HVAC mechanics, plumbers, and electricians, Elmer says. Of the dozen, eight work at the university. The second class, which started in August 2017, has seven students and includes HVAC mechanics, HVAC controls technicians, a central utility plant operator, and electricians. A third class with six students of plumbers, electricians, and central plant will begin this summer, Elmer says.
If the number of applicants is any guide, the program has been a huge success. The first class had 100 applicants and the second class had a similar number, Elmer says. The third class is expected to have a similar amount.
Although the university can't guarantee each student a job after graduation, it tells the students that it hopes it will be able to hire them, Elmer says, adding that the university does hold vacancies so that students can fill them. "The incentive behind this is to fill the retirement spots," she says.
Mentors play an important role in the University of Arizona program. Supervisors select the mentors, who need to have a positive attitude, good technical abilities, and good communication skills, Elmer says.
"We've had a good experience with mentors who really see this as their legacy, to leave their mark at this institution," she says. "One of the HVAC mechanics takes it upon himself to know [the apprentices'] college curriculum and he and the student have 'truck talk,' so when they're going to the buildings or the warehouse and they're together, there is plenty of time to talk about what the student is learning."
Smithsonian Institution
The Smithsonian Institution in Washington, D.C., has a facility management internship for students and an apprenticeship program for current employees. Students can apply for either an academic or technical track facility management internship. The former is for students pursuing a college degree, who may work in areas such as strategic management, engineering, technology, or sustainability. The latter is for students interested in pursuing training in areas such as plumbing, masonry, electrical systems, wood crafting, and more.
About 80 percent of the interns know they want to go into facility management, says Nancy Bechtol, director of Smithsonian facilities. Some interns may spend the summer mapping a new museum so that the Smithsonian has it in its GIS system, while other interns are inventorying equipment and writing preventive maintenance schedules. Others may work on sustainability projects.
"They all come from different disciplines, and we try to get them a broad-based experience and then they can narrow their interests," Bechtol says. "No one is filing paper, and it's not a desk job. We're open to the public and it's a bustling place. It's not a controlled environment."
While the students get experience and opportunities to network, the Smithsonian gets inexpensive, productive labor and a temporary workforce that brings current knowledge about computers and machinery, Bechtol says. The Smithsonian also builds relationships with universities, which helps in getting qualified applicants for job openings, she says.
Bechtol isn't worried about the future of the facility management profession, but she is concerned about the trades within facility management, such as electricians, utility repair staff, or HVAC mechanics. "There seems to be a 20-year gap where we didn't have any people who were actively going for those trades," she said.
To address this, the Smithsonian developed an apprenticeship program for current employees who are aren't in the trades but have expressed interest in them. Employees may be part of the cleaning crew or the security personnel, for example, and have shown interest and aptitude in a trade, Bechtol says. The individual starts as a helper, and the Smithsonian will take them all the way through to journeyman.
The first class graduated about a year ago and all 19 students got better jobs after graduation, Bechtol says. A class of 20 started in January. All the students have been employed by the Smithsonian for a number of years, Bechtol says.
FaciliThon
Students who like people and buildings, who aren't afraid to tackle problems, who enjoy action and variety in their daily tasks, and who can think on their feet have the attributes that make a good facility manager, Zirbel says.
Zirbel has been a key player in an effort to educate high school students about careers in facilities. The IFMA chapter in Madison, Wisc., joined forces with SkillsUSA, an organization that works to expose students to careers in industry and technology, to launch FaciliThon, a competitive event in facility management. Zirbel describes FaciliThon as a 50-question common sense quiz, a 10-minute role play with real facility management judges, and a 5-minute facility management challenge. That challenge may be that water is spraying all over a gym and the fire alarm is going off. High school students must quickly decide what they're going to do and what resources they'll use, then figure out how they can keep the situation from occurring again.
FaciliThon is running in Wisconsin, Florida, Colorado, and Virginia and is being developed in California, Kansas, North Carolina, Massachusetts, Minnesota, and Georgia, Zirbel says. It takes about two years to get a program up and running, he says.
Desiree J. Hanford, a contributing editor for Building Operating Management, is a freelance writer who spent 10 years as a reporter for Dow Jones. She is a former assistant editor of Building Operating Management.
Email comments and questions to edward.sullivan@tradepress.com.
---
---
---
Related Topics: