How Creative Engagement is Growing into a National Trend
Because the creative engagement process works well across vertical markets, more and more facility managers and designers are recognizing its value.
Creative engagement adapts itself to projects across all market sectors — school districts, corporations, research organizations, and even developers of mixed-use and multifamily projects. In most cases, the facility manager is the galvanizing, central force in establishing the working group and its aims.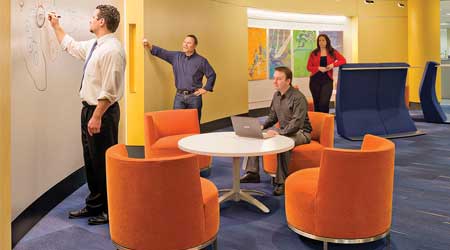 Robert Benson Photography
Creative engagement workshops are catching on nationally. Among the reasons for adopting the approach, said one facility manager, is that the "workshops bring in everyone affected by the project, creating a powerful sense of purpose that almost automatically bonds together the participants at a humanistic level. That experience breaks down barriers we find challenging our facilities projects all the time."
With barriers out of the way, the stakeholders that facility managers work with on projects large and small can suddenly escape their narrow focus and see the larger picture of what facilities achieve. Creative engagement creates a platform for people at all levels to be heard, and it empowers a new generation of ambassadors who can articulate (and defend) decisions that are made.
For organizations faced with new missions or other major challenges or simply undergoing culture shifts, creative engagement is an essential ally. A classic example is the move from private, enclosed offices to open-plan workplaces, or the adoption of mobile work concepts and highly collaborative facility settings, where processes can be disrupted and signs of facility status are threatened. Creative engagement ensures a deep, thoughtful conversation that precedes the asset shifts and design changes. And that process turns creativity into a roadmap into the future.
Lynn Brotman (lbrotman@svigals.com), IIDA, NCIDQ, is associate principal at Svigals + Partners, an architecture and design firm. Robynne Orr, is a project planner for the Yale University School of Medicine and West Campus for Yale Office of Facilities. Svigals + Partners, working with varied clients including Yale University, developed the creative engagement template presented in this article. Barry Svigals, FAIA, who helped develop the creative engagement method, contributed to this article.
Continue Reading:

Cover Story: Workplace Planning

How to Engage Occupants to Create Better Space

7 Steps for Successful Creative Engagement

Creative Engagement Case Studies Provide Proof of Concept

How Creative Engagement is Growing into a National Trend
---
---
---
Related Topics:
Comments