Facing Headwinds, Malls Reinvent Themselves
Shifting demographics and other factors mean malls must innovate or die.
OTHER PARTS OF THIS ARTICLE
Pt. 1: This Page
Pt. 2:
Why Some Malls Are Thriving In The Age of Online Shopping
Pt. 3:
Right Mix of Technology, Amenities Key for Mall Survival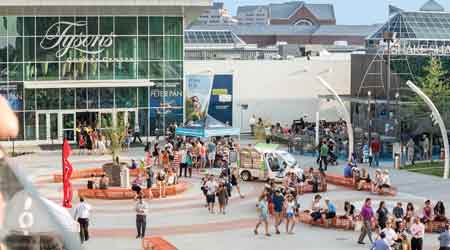 Courtesy of CallisonRTKL
The headlines for shopping malls are all gloom and doom: Malls are dead; the Internet has killed malls; consumers prefer couches and computers over traffic and parking. And while the mall that many people picture in their mind — a sprawling enclosed facility anchored by three to five department stores — is a relic, experts say malls are evolving to meet the needs and desires of today's consumer.
"The traditional mall is gone for now," says David Dixon, a senior principal, planning and urban design leader with Stantec. "Main Street is in and covered malls are out. Malls are finding a different meaning and purpose. They are becoming the downtown the suburbs never had."
The old model of what fills the mall space is changing, and the physical structure of a mall also needs to be changed, just as any building would after 40 years of use, says Melina Cordero, head of retail research, Americas, for CBRE. "We're not seeing a lot of new mall construction but instead reinvestment of malls, everything from technology to design to physical space."
Malls, experts say, are divided into two categories: the haves and the have nots. The haves are mainly Class A malls and some Class B malls that are succeeding and poised to continue doing so because they have the capital to make the changes that will attract customers, whether it's renovating space or adding wireless internet. The have nots are some Class B and many C malls, including regional malls, that have lost retailers, often big department stores, and are unlikely to see them return.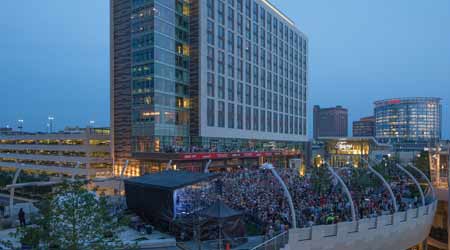 (An elevated plaza was designed as a hub for multiple uses at Tysons Corner Center. It connects from transit directly into the existing mall and is lined with an office building, a residential tower, and a Hyatt Regency Hotel. Courtesy of CallisonRTKL.)
"A and B malls aren't struggling. They are doing fine," says Greg Maloney, president and CEO of JLL's American Retail business. "The C properties are struggling with occupancy and department stores. If we just made a general statement that Sears, Dillard's, JC Penney and Macy's are closing stores, most of (those stores) are in the C assets. They aren't closing in the A and B malls. We've had a tendency over the past several years to say that malls are struggling. That's not true. Retail is. Occupancy and rents are at an all-time high."
Experts point to several reasons that some malls are struggling or closing their doors for good. One is over-saturation: There are more malls than today's population can support. The divergence between successful malls and struggling malls accentuates that the United States has been "over retailed" for a long, long time, says Jeff Gunning, senior vice president of architectural firm CallisonRTKL. The United States has about 25 square feet of retail space per person, while a country such as Brazil has about 5 square feet per person.
Shifting demographics
Another reason is that demographics have changed and will continue to do so in the coming decades, Dixon says. Population growth had been occurring in the 35 to 65 age group, where households typically had two parents and two children. That started changing dramatically in the early 2000s and now growth is occurring in people over the age of 65 and under the age of 35, groups of people who often don't have children. Those two segments of the population want to live in urban areas and so the drive-to market that malls were built for and around is at best stagnant if not shrinking, Dixon says. Meanwhile, he says, all the population growth is shifting to where the traditional mall model is much less suited.
Also, the traditional mall isn't adapting to the way consumers spend money today, meaning malls don't have the right merchandise mix, says Cordero, who authored a report about the challenges facing shopping malls. Department stores account for nearly 50 percent of the gross leasable area in U.S. shopping malls, with apparel and accessories stores occupying another 29 percent, she says in the report. Those are two of the slowest-growing categories in retail, she notes. Restaurants, home furnishings, and health and beauty are higher-growth categories.
Cordero points out in her report that it isn't easy to change merchandise mix because of the structure and length of retail leases. Most department stores, she says, have reciprocal easement agreements that make it difficult to make major changes to malls without a department store's consent. Mall owners have been buying out department store leases and redeveloping the space into restaurants and specialty stores, which is helping revenue growth, she says.
Continue Reading:

Retail Facilities

Facing Headwinds, Malls Reinvent Themselves

Why Some Malls Are Thriving In The Age of Online Shopping

Right Mix of Technology, Amenities Key for Mall Survival
---
---
---
Related Topics:
Comments