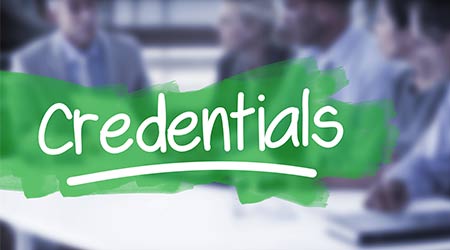 Facility Management Credentials: What You Need To Know
Choosing the right credential for your particular situation is more art than science. Here is some advice.
Since its origins in the 1980s, the facility management profession has evolved and matured with the march of time. From relatively humble beginnings as an often forgotten, but necessary organization function, facility management in many corporate and institutional settings now is viewed as a partner in the goal-setting and mission implementation process. Facility management has become a highly visible profession requiring strategic, technical, managerial, customer service, and business acumen.
That same period has seen the rise of an array of credentials for those in facility management and related fields. Today, facility managers can choose from a very wide range of certifications, designations, and other credentials that can help them acquire — and demonstrate that they have acquired — the knowledge, skills, and abilities necessary to stay ahead of the changing requirements and expectations associated with a more sophisticated facility management framework. But with all these choices comes a challenge: How does a facility manager decide which is best for her- or himself? Indeed, what factors should be weighed to determine whether any credential is worth the time and effort required to achieve it?
What is a credential?
A 2017 report from the U.S. Department of Education's National Center for Education Statistics found that 27 percent of working-age adults have a non-degree credential, that is, a postsecondary certificate, a certification, or a license. Licenses were more prevalent than certifications — 18 percent of adults reported having a license, compared to 6 percent reporting a certification.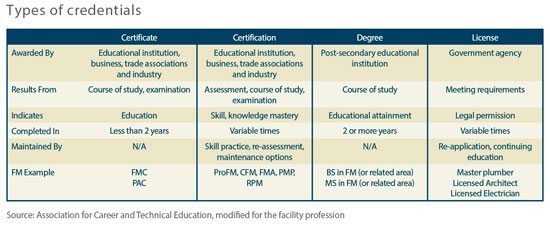 So what exactly are these credentials? Essentially there are four major categories: certifications, government-issued licenses, and degrees. The Association for Career and Technical Education stipulates "an education and work-related credential in general can be defined as a verification of an individual's qualifications or competence issued by a third party with the relevant authority to issue such credentials." Each individual credential has its own definition.
Certificates typically are awarded upon successful completion of a brief course of study. Study usually is one year or less, and upon successful completion of the course a certificate is issued that requires no further action to retain.
The term certification indicates a mastery of or competency in specific knowledge, skills, or processes that can be measured against a set of accepted standards. Certification involves:
• Review by an independent body such as a professional association or regulatory body.
• Designation that is conferred after proficiency assessment (educational achievement/years of experience/completion of supervision or exam/mapping of competencies or verification of proficiency by employers).
• Body of knowledge approach.
• Issuing entity requires ongoing commitment to continuing professional education.
• Individuals can put a relevant acronym after their name and consider themselves certified and designated.
Certifications are not tied to any specific educational program, but usually are awarded through assessment and validation of skills in cooperation with a business or trade association or other industry group. After obtaining a certification, individuals often must meet ongoing requirements to maintain the currency of the certification.
License is a legal permission, typically granted by a government agency, to allow an individual to perform certain regulated tasks or occupations. It is usual to obtain a license by completing a course of education or assessment. After receiving a license there may be ongoing requirements to maintain the license.
Degree is an award or title conferred upon an individual for the completion of a program or courses of study over multiple years. Degrees typically are awarded by postsecondary educational institutions. After a degree is awarded, an individual does not need to meet requirements to maintain the degree's currency.
Different credentials for different purposes
Conducting an on-line search of credential programs related to facility management is both extensive and exhausting. Multiple credential programs cover specialized purposes and functions. Some credential programs are under the auspices of independent education and training organizations, some are sponsored by post-secondary educational institutions that offer facility management degree programs, as well as certificate and certification programs, while others are conducted by trade associations that are specific to facility management and peripherally related fields.
The chart "Many Options For FM credentials" below presents a sample of credential programs in the facility field. Facility managers may want to strengthen knowledge, skills, and abilities for an existing or new position, or to enhance a career that is already progressing. Using the chart as a guide, facility managers can target a specific function or topic area and then research the credential programs that support it.
---
MANY OPTIONS FOR FM CREDENTIALS
Here is a sampling of credentials available for facility professionals. It is intended to be a representative list because it would take pages to show all current programs. New credential programs for facility management and related professions appear on a regular basis. The chart also does not identify degree programs, as these too are numerous.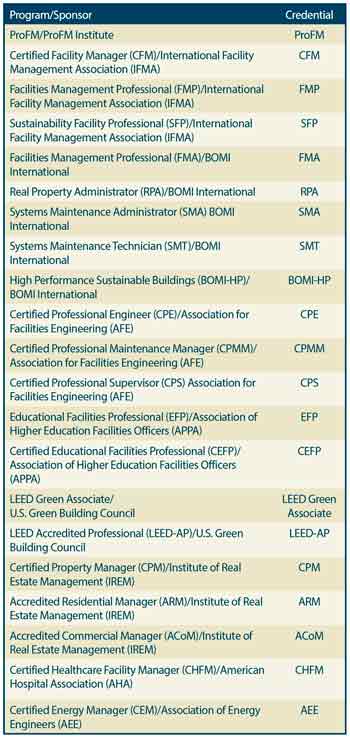 Continue Reading:

FM Career Development

Facility Management Credentials: What You Need To Know

Credentials Hold Value for Facility Manager, Employer

How To Choose The Right Facility Management Credential

Judging the Value of an Facility Management Credential

ProFM Credential Makes Its Debut
---
---
---
Related Topics: