Expanded Opportunities for Higher Education Facility Upgrades
Strategies for identifying opportunities and scoping system upgrades to produce bottom-line benefits
OTHER PARTS OF THIS ARTICLE
Pt. 1:
Higher Education: HVAC Upgrades Drive Sustainability, Energy Efficiency
Pt. 2:
Understanding System Specifics To Ensure Successful HVAC Upgrades
Pt. 3: This Page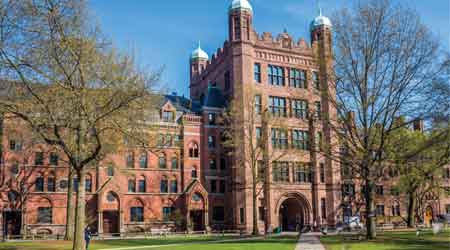 Increasing the energy efficiency of higher education facilities via renovations and upgrades also involves minimizing the infiltration of outside air. Although most projects do not venture too far into envelope testing and remediation, focusing on entryways can provide immediate energy savings.
Given the amount of foot traffic on many campuses, air curtains can curtail the amount of outside air entering a building. The air curtain requires less energy than other cooling or heating systems as it activates only when the doors open. Making sure sensor-activated doors are calibrated properly and maintain a minimum open time also can improve energy savings. Revolving doors or a properly controlled vestibule can deliver the same benefit.
Lighting-system upgrades can approach energy efficiency both from the installed fixture and ballast approach as well as the lighting control strategy. Upgrading old, inefficient light fixtures and ballasts is typically one of the easiest upgrades with the quickest payback. Technologies for light fixtures and bulbs has evolved greatly in recent years, with many viable LED retrofit options available to accommodate many existing facilities.
Managers can implement new lighting controls to maximize control and output based on program space and use occupancy sensors wherever appropriate. Such applications might include incorporating several zones and scenes, including controls for chalkboards, whiteboards, desks, and other focal points with dimming, on/off and daylight-dimming systems.
Upgrades to higher education facilities are useless if the personnel using and managing these upgrades are not properly trained. Training also should include space occupants using and understanding the basics of the systems and local controls. By educating front-line technicians and occupants, managers can reduce the number of complaints and maintenance calls received. More importantly, making sure technicians are properly trained on the intent and operation of the newly installed upgrades is crucial. A well-trained staff can mitigate equipment damage and increase the equipment's long-term performance.
Managers in higher education facilities have many different potential issues to juggle when upgrading their facilities. But if managers succeed in surveying their buildings, creating concrete intent and managing project coordination, then the upgrade will succeed. HVAC upgrades should be designed and executed with the intent of repurposing and controlling the energy spent throughout the building, and effective training is an important upgrade component because a building upgrade that no one can operate is useless.
Daniel Altshuler is a field engineer with Horizon Engineering Associates — www.horizon-engineering.com — in the firm's New York City headquarters office. His background includes mechanical contracting, building commissioning, project management and operations management.
Continue Reading:

Project Management

Higher Education: HVAC Upgrades Drive Sustainability, Energy Efficiency

Understanding System Specifics To Ensure Successful HVAC Upgrades

Expanded Opportunities for Higher Education Facility Upgrades
---
---
---
Related Topics:
Comments