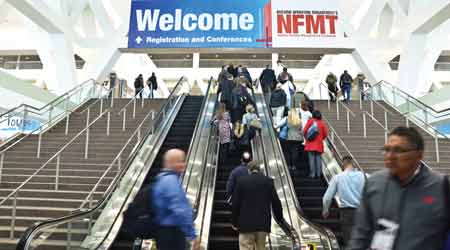 Building Operating Management Highlights FM Education Opportunities
From our signature live event NFMT to our library of webcasts, Building Operating Management offers dozens of education opportunities for facility managers.
Building Operating Management and our educational partners offer outstanding training opportunities for FMs and their teams. Here are some highlights.
NFMT 2019 announces opening session
Building Operating Management's flagship show, the National Facility Management and Technology (NFMT) conference and expo, has announced it's opening session: Building Technology Has Advanced — It's Time We Catch Up… John Rimer, CFM, and President of FM360 is the speaker.
In this educational session, Rimer will look at the advance of the built environment and focus on these technological advances and discuss how they can be put to work for the betterment of FM departments and help resolve the growing skilled labor shortage.
What you'll learn:
1. Describe common facility technology systems and their primary purpose
2. Identify typical opportunities for further leveraging building technology
3. Define best practices for selecting and implementing technology
4. Discuss steps for mitigating typical pitfalls with technology implementations
Info on this and 100 more free NFMT sessions at NFMT.com/Baltimore
---
NFMT Editor's pick — Protecting facility systems from hackers
If you have building control systems connected to the internet, this session should be on your to-attend list for NFMT Baltimore. Cybersecurity expert Phil Mellinger, chief information security officer for Tower Federal Credit Union, will help you understand types of threats that can enter through connected systems and show you how to identify weaknesses. It's Wednesday, March 27 at 10:30.
— Edward Sullivan
---
FMs and utility management
In recent years, an increasing number of facility managers has been charged with moving their facilities toward best practices for utility management. In many cases, the desire for cost savings has driven utility management into the FM arena. Utility management is one of the FM functional areas outlined in the ProFM body of Knowledge. ProFM defines utility management as the techniques to control the utility services required to operate a facility. Learn more about ProFM, the new credential for all facility professionals, at ProFMI.org.
---
Free FM Webcasts
FacilitiesNet has a library of free FM webcasts. Earn CEUs while sitting at your desk or on your cell phone.
Choose from more than 50 webcasts on a wide range of topics including:
• Cybersecurity risks (data protection) and the FM
• Managing Roofing Projects
• Saving energy with Energy Treasure Hunts
• Reflective Roof Coatings
• HVAC Upgrades
...and many more.
CEUs are available after participating in the webcast. Go to FacilitiesNet.com/Webcasts to access the complete webcast library.
---
---
---
Related Topics: