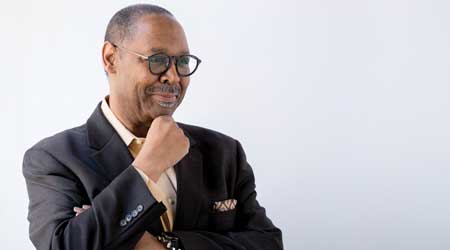 A Career Trajectory in Data Center Operations
Chris Wade's career path, which started at Walmart, has led to a continuous accumulation of expertise and therefore the ability to implement operational and energy efficiency.
Chris Wade was one of Walmart's first data center facility managers. When he started, the company had two data centers, including a disaster recovery site. During his decade with the retailer, Wade participated in the design or building of a global portfolio of 51 data centers located in 21 countries.
As Wade helped the company grow, he also helped to improve the efficiency of its operations. One example: By implementing data center best practices, such as server consolidation and the introduction of low-, medium-, and high-density server zones, Wade and his team boosted data center operational efficiency by 20 percent.
Their efforts didn't go unnoticed. In 2012, Wade's team received a "Project of the Year" team award from Walmart for data center design and the building of a disaster recovery facility. To avoid area-wide power-supply problems, the new facility was constructed 500 miles from the primary data centers and was supported by an entirely different electrical grid.
Being prepared for an emergency can bring unexpected benefits. One of Wade's proudest accomplishments was creating an IT continuity team, which helped not only Walmart stores, but also its customers and the broader community manage through Hurricane Katrina. "We helped get supplies to the people in New Orleans," he says. "We were instrumental in keeping the power for the systems up and running so the stores could supply things people needed."
When Wade left Walmart, he and two others started a consulting and training firm, Resilient Mission Critical Solutions. It focused on data center facility management, energy efficiency, data center auditing, and training program development. During this period, Wade had an opportunity to develop a critical environments operations program with Newmark Knight Frank (NKF), a property management company. Among other services, NFK manages other organizations' data centers. Wade joined as program director, national critical environments, responsible for overseeing data center operations, driving data center best practices, and developing a data center operations training program.
"Chris brought an extensive level of data center operations knowledge and experience to NKF. His attention to detail was exceptional, which is crucial in critical environment operations," says John D. DuPree, senior facilities manager with NKF. Wade was instrumental in assembling the NKF data center facility management program, which enables cohesive data center management practices throughout North America, DuPree adds.
By late 2017, the programs Wade had implemented with NKF were up and running smoothly. He received a call from Amazon Web Services (AWS), and joined as senior manager, data center engineering operations, supporting cloud computing infrastructures. Over the next few years, he and his team managed data center engineering operations, and he helped manage the construction of multiple data centers.
After several years with AWS, a job offer from Workday provided an opportunity to step into a new role created to help increase data center operational maturity in a growing organization and to return to Atlanta, closer to home and family. Wade took the offer.
Wade comes by his career naturally. His dad was a building engineer, overseeing computer rooms for a large healthcare company and an auto manufacturer. During summers, Wade helped him maintain the chillers and cooling towers. "I learned a lot about the industry, and really enjoyed it," he says. At seventeen, he became the youngest person in Michigan to pass the state's exam for a power engineering license, although he had to wait until he was eighteen to actually receive his license.
While studying to become an architect, Wade worked in building maintenance to pay for college. He realized he wasn't cut out to sit behind a desk all day. He earned technical diplomas in nuclear engineering technology and air conditioning and refrigeration and continued to focus on facility management.
At one point, Wade and his dad were students in the same solar energy and alternative energy course. They partnered to build a solar oven and a working model air conditioning system. "You had a week to build it and we built in a day and a half," he says, noting that they benefited from their years in the field. "Then we helped the others in our class."
A position managing a data center with a small company introduced Wade to the data center function, piquing his interest. "It's always something different and new," he says. "There's never a typical day."
Continue Reading:

Cover Story: Chris Wade profile

Data Center Guru Chris Wade Is Cool Under Pressure

A Career Trajectory in Data Center Operations

How to Make the Financial Case for Data Centers

Bridging the Facilities Management / IT Divide

Staffing Shortages May Hinder Data Center Success
---
---
---
Related Topics: