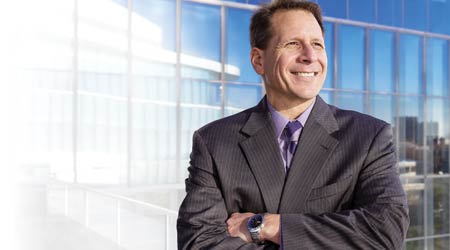 Photo by Jim Prisching
How a Philosophy of "And" Creates Facilities Management Efficiencies
Sustainable and accessible. Cost-effective and community-minded. Northwestern's John D'Angelo aims for solutions that address multiple needs.
On a blustery, overcast late-autumn morning, Northwestern University's Evanston campus is nearly deserted. It's the second day of finals, and everyone is either taking tests or grabbing a few precious minutes of sleep after pulling an all-nighter. As John D'Angelo, Northwestern's vice president of facilities management, walks through campus, he delights in pointing out all the examples of what he shorthands as the university's "and" philosophy — benches on walkways with views of Lake Michigan or a cute little pond adjacent to the university's central plant, as examples.
Like most top-tier universities, Northwestern University encourages its students to be well-rounded and versatile. A recent ad campaign uses the tagline "AND is in our DNA" — meaning that a student at Northwestern can be both a world-class athlete and a biophysicist, a first-chair clarinetist and a magazine journalist. The idea is that disciplines overlap and students are encouraged to find synergies between the classroom and extracurriculars.
D'Angelo has incorporated this notion of "and" into his facilities management department in ways both dramatic and barely noticeable unless he points them out. In the case of the benches, they add a touch of aesthetics to campus and allow all in a group to sit at the same eye-level, whether in a wheelchair or not. In the case of the pond, it doubles as a cooling pond for his massive HVAC system. From a higher level, D'Angelo's philosophy of "and" means finding ways for the campus to be accessible and sustainable, to meet KPIs and respond to shifting space needs for new forms of teaching and learning, and to be financially smart and make the campus a good citizen of its community.
For D'Angelo, "and" isn't just about matching the university's culture. For him, "and" is a way of performing efficiently and cost-effectively. "Facility managers tend to have a thousand issues they're juggling at any one time, and trying to solve those individual issues is a nightmare," D'Angelo says. "By taking those issues, and grouping them in such a way that you drive a single solution through many issues, you get that 'and' effect."
D'Angelo's portfolio includes more than 220 buildings comprising more than 15 million square feet of space (the majority of that is on the university's Evanston, Ill. campus, but there are also buildings in a downtown Chicago campus, as well San Francisco, Coral Cables, Fla., New York City, and Doha, Qatar). D'Angelo's facilities department includes about 370 staff performing 80,000 work orders per year and a budget of about $900 million per year (capital and operations).
To decide how to spread time and money around, D'Angelo looks for overlaps and complements. And doing so is something at which he and his team have become quite adept. "All of our business lines are fully integrated into our KPI deck," he says. "Each director is evaluated jointly. There are no stovepiped business lines, it's a continuum. That's really the way facilities is meant to be run."
And inclusivity
D'Angelo has been at Northwestern for almost three years, after stints in facilities at New York Presbyterian Hospital and the Cleveland Clinic, and a long stint in the Civil Engineer Corps of the U.S. Navy. Since arriving on campus, one of D'Angelo's priorities has been incorporating the principles of universal design into the campus. Universal design is about making the built environment usable by all without the need for individual adaptation.
"It's really about adapting the environment to our people instead of making people adapt to the environment," says D'Angelo. The standard for many institutions is to put buildings up on pedestals, he says — that is, having grand staircases at the entrance, and then a wheelchair switchback ramp off to the side somewhere. Sure, this complies with the American With Disabilities Act, but it's still not ideal. "ADA is a minimum," he says. "There's nothing that says you need to stop at the minimum. Inclusivity is well beyond just accessibility."
Universal design and inclusivity are really about dignity, he says. People with disabilities need to be able to use buildings in the same way as everyone else. "My mission is to focus on dignity, and when you do that, you find areas where ADA doesn't quite go far enough," he says.
And the important aspect of universal design is that when it's done well, no one even notices. A recent renovation to the performing arts building on campus added 8,000 square feet, but also brought the entrance of the building to grade so as to eliminate the pedestal effect. Before the renovation, a person in a wheelchair would have had to take a vastly circuitous route to enter the building, potentially having to break off from the group, halting conversation. D'Angelo relates an anecdote where he saw a prospective student with a wheelchair-bound parent approach the re-graded entrance and not have to take any special steps to find the ramp or alternate entrance. "They were deep in conversation and did not notice that they went past this grade transition without having to do anything special to stay together," he says. As well, when the building was rededicated, he mentions how gratifying it was to watch one of the building's donors who has a mobility impairment get to use the same entrance as everyone else.
But inclusivity isn't just about high-minded idealism, it's about cost, too — or in the parlance of the university, inclusivity "and" cost-savings. "If you design a building without looking at dignity at the beginning, everything you add at the end is a cost," says D'Angelo. "The fun part of universal design is that when it's done well, it's actually more cost-effective than ADA."
Eliminating the cost for the ramp, as well as not having to use program space for other ADA minimums, results in immense financial efficiency.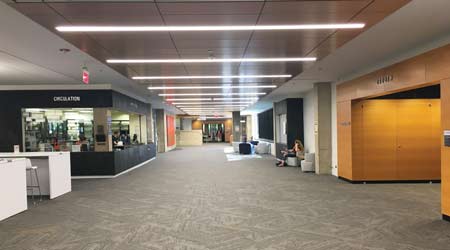 (A recent renovation to the University Library includes several strategies of inclusivity, including movable, lower furniture. Credit: Northwestern Facilities Management.)
Continue Reading:

COVER STORY: John D'Angelo Profile

How a Philosophy of "And" Creates Facilities Management Efficiencies

Combining Efficiencies in Cost, Space, and Inclusivity

At Universities, Changing Learning Means Changing Space Needs

Shared KPIs Create Spirit of Collaboration

Podcast: Interview With John D'Angelo
---
---
---
Related Topics: