What You Need to Know to Get Short-Term Equipment Rental Right
Follow this advice for when portable cooling, generators, and work platforms are needed temporarily.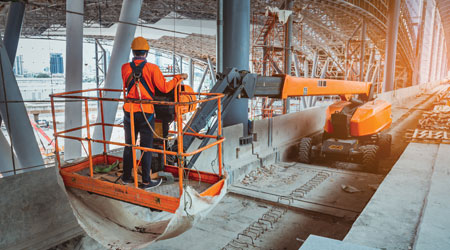 Maintenance and engineering managers rely on a range of equipment and products to ensure technicians can complete essential daily activities at their institutional and commercial facilities. They also must supplement this equipment with key pieces of rental equipment for specialized activities.
To ensure a smooth and successful rental experience, managers should ask key questions when renting common types of maintenance equipment such as portable and emergency cooling, generators, and mobile elevating work platforms (MEWPs).
Ground rules
The first rule managers should follow when renting is to only rent what you need and only for long enough to effectively do the job.
The second rule is do not wait until you need equipment to find a source. You will save time getting the equipment to your job site if your supplier knows your situation and needs in advance. This assures the right equipment will be available, and you will have better priority if demand is due to a natural or man-made emergency.
Package rental is a new practice in small equipment rental for one-time or seasonal work. The rental source may offer multiple pieces of equipment in a package, so the renter has only one agreement for all the tools and equipment.
Cooling considerations
When managers are specifying portable or emergency cooling units to rent, they need to consider the following:
What is the objective of the rental?
How much personnel is affected?
What machines need cooling?
What capacity units are required?
What hoses, ducts, and power or fuel are needed?
Do I need multiple fuel sources?
Can I get everything in one agreement?
Noise level is another factor to consider. Low noise is especially important in hospitals, educational facilities, and other facilities that need a quiet environment. But all facilities must follow the guidance to protect employees, including wearing disposable ear plugs, earmuffs, or hardhat mounted ear muffs, if required, as a part of their personal protective equipment. Noise standards guide the user in specifying what is acceptable.
Noise levels are measured in decibels. One decibel is the lowest sound detectable by human hearing. Eighty-five A-weighted decibels (dBA) or less is acceptable to the human ear, and 120 dBA is uncomfortable. OSHA's permissible exposure limit is 90 dBA over an eight-hour day. A cooling technician uses a digital decibel meter to measure the existing level. The best solution is to specify a unit with the correct level. But if the generator exceeds an acceptable noise level, the maintenance manager can correct it by installing an acoustical cover on the equipment. A technician uses the decibel meter to check the unit in operation to ensure that an acceptable noise level results.
Evaporative portable coolers, or swamp coolers, floor, or window types, use water for cooling. They have a water tank, evaporative pads, and a large-capacity fan. Quieter than refrigerated units and more environmentally friendly, the fan blows air through the water pads, which cool the air. They also improve humidity in dry climates by adding water vapor. Ionization is another benefit that removes dust, microbes, and allergens making the air healthier, especially for those with compromised respiratory systems.
Portable cooling is often used at such sites as construction, sports and other outdoor events, hangars, and manufacturing facilities. To properly size the unit, managers should determine the cubic feet to be cooled, and air changes per minute, for example, a 3,000-cubic-feet-per-minute unit would provide an air change every minute for a 3,000 cubic foot space, or 180,000 cubic feet per hour.
Generational power
Managers often deploy conventional generators for backup power or to access remote locations. The generators are fueled by diesel, propane, or gas, typically deliver from 5,000 to 17,500 watts (W) of power, and are mainly used for construction.
Some factors to consider when specifying a 17,500-watt, 120/240-volt (V) generator are:
Is the machine gas-powered and rated to 17,500 W with a surge rating to 26,250 W?
Are the generator amps measured at 145.8 amps at 120 V, or 72.9 amps at 240 V? If 240 V power is available, large energy cost reduction can be achieved.
Does the generator have an electric start?
Does the generator include a half-load run time of 10 hours?
Wattage of all connected devices to be served must be known when specifying. Several generators may be required to meet load requirements. As with other rental equipment, noise level is another consideration. Some noise abatement may be necessary if the generator does not meet the standards described above. Inverter portable generators convert DC to AC using an electric alternator and operate power tools and electronics up to about 5,000 watts. They are dual-fueled by gas or propane and are lighter and smaller.
Depending on the model, inverter generators are quieter. They use an electric alternator to vary speed according to load. Features to consider when renting inverter generators include: easy-to-read controls; cold start, extended run time, and low-oil shutoff sensor functions; fuel-tank capacity; amount of 120 V outlets, USB adapters, and the amount of technical support available from your supplier.
Solar powered inverter generators are quieter at 7 decibels and consist of one or more solar panels and the inverter generator, which stores power until needed and distributes power to small tools and electronics.
Other key accessories considered with generator specifying are the type of transfer switch (manual and automatic, or power switch), extension cords, mufflers for noise abatement, automatic voltage regulators to maintain steady output voltage, and remote start.
If the generator is to be used for backup, it should be located near the building electric distribution panel. A power transfer switch will provide automatic switching when power loss is detected. Also, load supported generators can be programmed for various situations, so only needed power is supplied.
Specifying MEWPs
Managers have a variety of sizes and capacities of mobile elevating work platforms (MEWPs) to consider in the rental industry. They were formerly classified as scissor lifts, aerial work platforms, boom lifts with or without extension, or articulating boom lifts, for example. MEWPs need enough platform space to accompany personnel and tools, such as hand and power tools, and welding supplies.
There are three types of MEWPS:
Type 1 has a locking device to allow movement only when in a stowed position.
Type 2 can move when elevated. Controls are on the chassis at the ground level.
Type 3 can be elevated by the operator with controls on the elevated platform.
Since each type of lift has different tipping characteristics, training, to be valid and safe, must be certified for the specific equipment type rented.
A typical example of features when specifying for an articulating boom lift includes:
Reach height of 45 feet with reach 25 feet and a 550 pound capacity
Auxiliary power up to 12 V
16-gallon diesel fuel tank
Hydraulic reservoir capacity up to 15 gallons
Machine weight of 14,150 pounds and ground-bearing pressure of 448 psi, which may be a challenge for hot asphalt or soft, wet ground
Four-wheel drive speed of 4.3 mph
Gradeability of 45 percent and swing 355 percent non-continuous, which is part of the total range for each control activation
Outside turn radius of 15 feet, 8 inches and ground clearance of 1 foot
Machine 7 feet, 5 inches high by 7 feet, 4 inches wide, with a platform of 2 feet, 6 inches wide by 6-foot long plus extensions.
Rental options include with and without operation and maintenance personnel. One option would include operating and maintenance personnel in the fee agreement. If you use this option, for example, in renting a boom lift, the trainer fully trains and certifies the operator, and the helper is fully trained and certified to do maintenance on the MEWP at the job site without reducing utilization. Maintenance would include small repairs and preventive maintenance such as lubrication, inspection, and safety checks, like outrigger checks for locking and proper operation. This would also include checking instrument panel onboard diagnostics for any other inspection and repair needs. While the hourly rate is higher, the main advantage is better utilization, which may offset the higher cost by getting the job done in less time and more safely.
Another option is renting the equipment only. If you have trained and experienced operator and maintenance personnel, you can use this option. But be sure to have operation and safety training and certification updates and necessary liability insurance. The training must be on the exact type of MEWP to be valid and safe.
With the more complex, higher cost equipment of today, purchasing or leasing by financing the equipment over time often requires you to reduce your cash flow substantially to pay back the loan, because it leaves a healthy financing cost after the useful life of the equipment has ended.
Thomas A. Westerkamp is a maintenance and engineering management consultant and president of the work management division of Westerkamp Group LLC.
---
---
---
Related Topics:
Comments