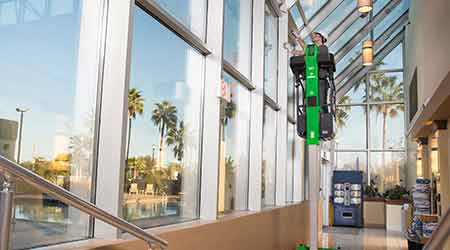 Photo: Sunbelt Rentals
Training Tips for Operating Aerial Work Platforms
Part two of a four-part article on aerial work platform safety
Managers looking to ensure the safety of technicians using aerial work platforms need to stay in constant communication with their safety directors and be attentive to accident and incident reporting. These reports can reinforce decisions related to both design specification and training program assessment and evaluation.
It is not uncommon for maintenance personnel to use a variety of lift equipment — some newly purchased, some rentals, new designs, old designs, and possibly some in not-so-good repair. Faced with these complexities, the technicians need ongoing operating, maintenance and safety training and retraining.
They also need continuing reminders about the importance of knowing the changing hazards as they move from one worksite to another and as they change from one type of lift equipment to another. Even changing from an earlier model of a lift to a more recent one of the same type and manufacturer requires familiarization training to ensure the user can become aware of differences in attachments, controls and safety devices.
The common denominator in training is the need to cover six important elements: capacities, safety — both incident reports and proper use of safety devices — maintenance tasks, inspection routines, operating controls, and expert guided-practice opportunity. These elements form the basis for a training program outline, but the content in each area differs, depending on the nature of the work site hazards and the design of the aerial lift equipment.
The two levels of training required are basic training, which covers basic principles and practices, and pre-job training and inspection, which is tailored to the specific work site and the specific lift equipment technicians will use.
The National Safety Council provides basic programs for operators to qualify on aerial boom lifts and scissor lifts. Operators receive instruction on the aerial lift equipment, and they receive training on effectively training others. This train-the-trainer approach is useful for improving the depth of understanding the material among trainees, while also providing trainers to qualify others to perform this complex work.
Basic training can provide a good foundation, but the specific equipment training and retraining for each manufacturer, type of equipment, and model upgrade also is essential. Managers should implement additional retraining when any of the following occur:
• An accident occurs during lift use.
• Technicians identify jobsite lift hazards.
• Managers or others observe workers improperly operating, maintaining, or inspecting aerial lifts or failing to perform necessary tasks on lifts before, during, or after use.
Continue Reading:

Equipment Rental and Tools

Reaching New Heights for Worker Safety

Training Tips for Operating Aerial Work Platforms

Lifts Manufacturers Adapt Designs to Match Facilities' Needs

SIDEBAR: Lift Safety and Connection to Data
---
---
---
Related Topics: