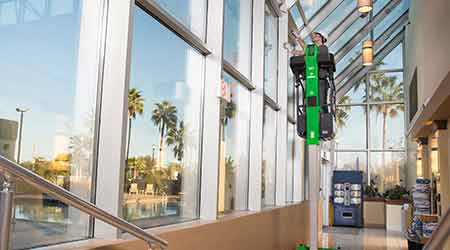 Photo: Sunbelt Rentals
Reaching New Heights for Worker Safety
Part one of a four-part article on aerial work platform safety
Aerial work platforms enable front-line technicians to perform essential tasks in hard-to-reach areas of institutional and commercial facilities. New-generation lifts are expanding this reach, in addition to offering greater lift capacity, ease of operation and safety.
Beyond ensuring that lifts give technicians the access they require, maintenance and engineering managers also must ensure technicians use the equipment safely. By identifying the most common errors technicians commit related to the use, movement and storage of lifts, managers can tailor training and resources in order to prevent lift-related accidents and injuries.

Hurdles and pitfalls
The Occupational Safety and Health Administration (OSHA) has identified the following errors related to aerial work platforms that can lead to lift damage, personal injury, or death:
• failing to use fall protection or working outside the platform railing, causing a fall from an elevated level
• failing to secure objects, which fall from lifts
• misjudging a lift's capacity, causing tip-overs
• using the wrong boom size, causing excessive reaching and falling from the lift platform
• overloading, which causes structural failures or collapse of the unit
• contacting energized wiring from ungrounded metal platform, causing electric shock
• allowing overcrowded or disorganized work platforms, creating entanglement hazards
• coming in contact with objects or irregular surfaces in pathway, causing loss of lift balance and possibly ejection from the platform
• failing to be aware of overhead surroundings, causing contact with ceilings, structural steel, or other overhead objects.
OSHA acknowledges that while these are chief causes, this is no complete list. Common errors or omissions occur in every stage of aerial lift use, including training, preparation, pre-inspection, operation, and maintenance.
For example, one common mistake that can lead to disaster is assuming an operator can inspect the lift without using the equipment manufacturer's checklist. Smart managers understand the importance and complexity of these inspections.
One such checklist includes 70 separate items to check, spaces to verify the check was made, and provides space for comments and follow-up. Managers should always require an operator to complete and sign a checklist form tailored to the specific equipment before starting work. Incomplete work site inspections, or those conducted by less experienced inspectors who do not know what to look for, can result in injury or worse.
One workplace hazard that an inspector can easily overlook is a small drop-off. As the aerial lift travels across an uneven work site, a drop-off of even a few inches — a curb, for example — can lead to a disaster if workers are on the platform. The shock from a sudden drop that ends in a sudden stop is magnified by the boom and causes the platform to shake back and forth suddenly and violently.
This motion can eject workers from the platform and has caused deaths from the resulting fall. Even if workers wear fall-protection equipment in this situation, the workers' ejection can lead to them hitting their heads hard enough to cause serious injury or death.
Another practice that can damage the equipment and injure workers is adding unauthorized counterweights to handle objects that are heavier than the unit's capacity. This tactic might briefly allow the lift to hand the heavier loads, but its hydraulics and frames were not designed for those loads. The results can include blown cylinder seals, bent frames, damage to key components, and sudden loss of control. If one side of the lift fails first, the lift can tip, dumping the load and injuring nearby workers.
Manufacturers design outriggers into most rotating lifts so they will not tip during rotation. But blocking outrigger safety devices or failing to use them has caused deaths resulting from tipping that throws workers off the platform or from the lift falling on workers on the ground.
Continue Reading:

Aerial Work Platforms

Reaching New Heights for Worker Safety

Training Tips for Operating Aerial Work Platforms

Lifts Manufacturers Adapt Designs to Match Facilities' Needs

SIDEBAR: Lift Safety and Connection to Data
---
---
---
Related Topics: