You Might Like
On FacilitiesNet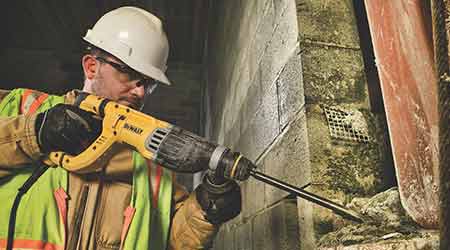 Power Tools Come of Age
Part 1 of a 3-part article on power tool advances
Power tools, the workhorses in maintenance and engineering departments because of their durability, power, and versatility, are experiencing growing demand among managers in institutional and commercial facilities seeking even higher-level performance.
The emerging cordless market appears largely responsible for the growing momentum. Cordless tools make up most of the growth in power tool sales around the world — a market projected to increase by 4.8 percent a year through 2018 and reach $32.9 billion in sales

, according to a study from the Freedonia Group, a publisher of industry market research.
Cordless tools have seen significant technology advances in areas such as battery performance, motor efficiency, inventory management and tool productivity as power tool manufacturers continue to explore opportunities for increased efficiency.
"If you've been in the trades for 20-plus years, the cordless drill you had 20 years ago or 10 years ago is significantly different than the cordless drills of today," says Chris Keffer with DeWalt.
Battery performance
Cordless power tool options have expanded in recent years thanks to the impact of better-performing batteries arriving on the market. Once the domain of smaller tools such as screwdrivers, drills and impact drivers, the cordless market now also includes more powerful tools such as rotary hammers and higher-torque tools that can cut steel. Still, product managers say some users remain skeptical of cordless tools.
"You definitely still get a surprise about some of the bigger applications," says Eric Holister with Hilti Inc. "Something that's astonishing to me, depending on the trade, you still have people in the mindset of, 'Cordless could never do this,' so they keep the cordless because they don't want to deal with the downtime or deal with changing batteries. They haven't necessarily caught up with the modern technology platforms that will allow them to run applications for an hour-plus before they have to switch batteries."
The power capability of cordless tools and battery quality rank as concerns for managers considering cordless options, but manufacturers say improved battery technology should alleviate any concerns managers might have about cutting their connection to corded tools.
"Increasing amp hours and runtime represents a key advancement in battery technology," says Jim Bohn with Robert Bosch Tool Corporation. "Manufacturers have been able to increase the number of power cells, but the key is to maintain or reduce battery size and weight. Some reformulation of cell size has allowed the overall battery housing to remain the same."
Another significant industry shift in battery technology started the mid-2000s with the emergence of lithium-ion batteries, which feature longer run time and increased power capability over their longtime predecessor, nickel-cadmium.
"The biggest improvements are in the battery core, especially lithium-ion," Holister says. "The energy density available on the market has increased dramatically over the last four to five years and is also continuing to ramp up in the near future.
"You're getting a lot more energy and life out of the exact same size package, if not smaller."
The quality of chargers also has improved.
"Today's chargers are more advanced than ever," says Jason Swanson with RIDGID. "Charging time has been reduced, and electronics enable the charger to properly diagnose the pack status to only charge as needed."
Continue Reading:

Power Tools

Power Tools Come of Age

Brushless Motors Enhance Efficiency of Power Tools

Internet of Things and Power Tools Collide
---
---
---
Related Topics: