Lift Rental Expands the Reach of Maintenance
Renting portable cooling units, lifts and generators can effectively supplement maintenance tools and tactics
OTHER PARTS OF THIS ARTICLE
Pt. 1:
Equipment Options To Expand the Maintenance Arsenal
Pt. 2: This Page
Pt. 3:
Power in an Emergency with Generator Rental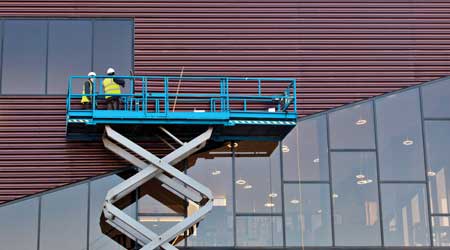 The first issue in selecting a MEWP is the unit's purpose. If technicians need a unit for inspection of remote locations, managers can consider lower-cost alternatives, such as scaffolds or a drone equipped with a camera. If technicians need to perform repair work, do they need space on the platform for tools and equipment? Does it need to hold several workers?
Managers need to need to consider the load weight for the given purpose, as well as the unit's physical dimensions. Can the lift pass through doorways or under low clearances? Can it navigate steps or rough terrain? Is this an outside job, and inside job, or both? Does the project require a unit with hard rubber or pneumatic tires? How much under-clearance is required? If the work site involves uneven terrain, are outriggers provided? Is the tilt needed within specifications? Are there automatic tip-prevention controls?
One option is to rent a forklift with a personnel lift attachment, which is effective if the department requires a MEWP for other projects at the same time. The forklift attachment gives a wider range of uses at the same time with the same equipment.
Managers must ensure technicians follow safety guidelines from the U.S. Occupational Safety and Health Administration, such as using proper personal protection equipment — hard hats, fall protection, proper railings on the attachment — and training to avoid unsafe conditions, such as overloading the unit that results in tipping, not having secure attachments on the forks, not wearing fall protection, and working outside the lift platform's enclosure.
Continue Reading:

Equipment Rental

Equipment Options To Expand the Maintenance Arsenal

Lift Rental Expands the Reach of Maintenance

Power in an Emergency with Generator Rental
---
---
---
Related Topics:
Comments