Equipment Rental: Strategies for Successful Program
Part one of a four-part article on equipment rental
OTHER PARTS OF THIS ARTICLE
Pt. 1: This Page
Pt. 2:
Ensure Aerial Work Platforms Match Project Needs
Pt. 3:
Renting Specialized Construction Equipment Provides Managers With Flexibility
Pt. 4:
Equipment Rental: Maintenance Matters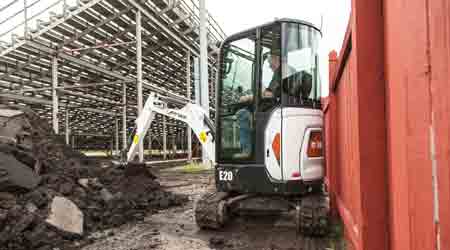 Even the best-equipped maintenance and engineering departments sometimes need to rent specialized equipment. Renting under the right conditions offers managers several advantages, including investments in reduced capital, lower equipment maintenance costs, the ability to closely match equipment to specific needs, and the elimination of storage costs for larger pieces of equipment.
Getting the biggest return on rental investments requires managers do their homework before making a decision. While this rule applies to all rental activities, it is particularly important when renting three of the most often-rented products — portable cooling equipment, aerial work platforms, and specialized construction equipment.
Cooling considerations
Portable cooling equipment can rescue managers and facilities from difficult situations. When cooling systems fail, these units can prevent damage to sensitive electronic equipment, as well as enable operations to continue with minimal disruption. They can provide cooling to support special functions, and during unusual weather, portable cooling equipment can be the difference between keeping operations running smoothly and scaling back.
The key for successfully renting portable cooling equipment is planning. Before managers rent systems for a particular application, they need to examine several factors related to the specific application.
System capacity. If the temporary cooling system is to provide adequate cooling, managers have to determine the needed cooling capacity. If the system is too small, it will not adequately cool the area. If the system is too large, it will operate inefficiently and noisily, and it will not provide proper humidity control.
Power requirements. Managers need to consider power requirements for portable cooling equipment before selecting a unit for a particular application. All systems have specific voltage, current, and phase requirements. Managers need to base their selection on products available in that location. Having to run temporary cables to power a portable cooling system increases the cost and lengthens to time that a facility might be without proper cooling.
Physical size. Temporary cooling systems range in size from half-height refrigerators to units mounted on tractor trailers. Smaller units fit through standard doorways, so technicians can roll them where they are needed. Installers might need to locate larger units away from the space or even outside, resulting in the need to duct conditioned air where it is needed.
Heat sink. The heat from the space requiring cooling needs to go somewhere. Smaller portable cooling units can use flexible ductwork to carry this heat outside through a window. Smaller units not located near a window can reject the heat to an unoccupied space, stairwell, or even the ceiling plenum.
Noise. Noise generated by portable cooling units can be a problem, even for smaller units. Installers must position units within a building in a way that minimizes the impact their operating noise has on operations. They also will need to position larger units located outside the conditioned space or even outside the facility in ways that minimize the impact of noise on operations.
To reduce the downtime resulting from a cooling system outage, managers should identify critical areas in their facilities that would require temporary cooling should the air conditioning system fails. For each such area, managers should evaluate these factors in order to identify the capacity and parameters of the rental system they would need. Wasting time trying to determine needs once the outage has occurred will disrupt operations and could result in costly damage to sensitive equipment.
Continue Reading:

Equipment Rental

Equipment Rental: Strategies for Successful Program

Ensure Aerial Work Platforms Match Project Needs

Renting Specialized Construction Equipment Provides Managers With Flexibility

Equipment Rental: Maintenance Matters
---
---
---
Related Topics:
Comments