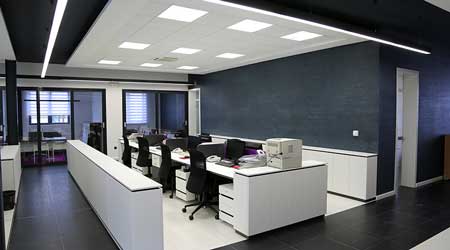 Facility Energy Use Plunges During Coronavirus Pandemic
As the coronavirus makes its destructive march across the United States, the results of the pandemic are just becoming apparent. Facility managers in the nation's institutional and commercial facilities continue to assess the fallout from their organizations' decisions to relocate workers and or shut down or curtail the use of buildings. In that vein, the impact on electricity use in offices is becoming clear.
In the four weeks leading up to April 4, office building electricity consumption across the nation declined 22 percent, per data from commercial real estate software company Hatch Data. The firm, which analyzes building data on more than 400 million square feet of occupied U.S. space, gathered information from building equipment and utility meters as the country grappled with the coronavirus outbreak, according to Bisnow.
It then compared the four weeks to the week of March 1 to paint a picture of the way this unprecedented situation has affected building operations. The company found that even with significantly reduced occupancy, many building owners and operators are keeping systems running to meet lease obligations and to keep their buildings functional.
When broken down by region, the largest electricity decreases followed areas that first enacted drastic measures to close down workplaces. In the Northeast -- which includes the New York tri-state area, as well as Maine, Massachusetts, New Hampshire, Rhode Island, Vermont and Pennsylvania -- electricity consumption fell by 23 percent, according to the company.
Dan Hounsell is editor-in-chief of Facility Maintenance Decisions.
---