« Back to Facilities Management Green Category Home
Three Trends in Sustainable Design and Construction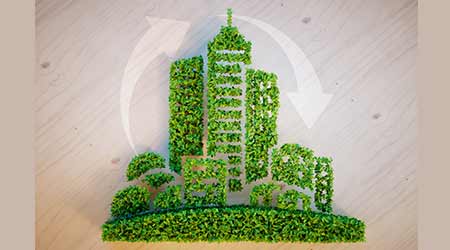 April 23, 2018 - Green
By Tori Atkinson
The world of construction is in a constant state of flux, with trends evolving at lightning pace and industry best practices being constantly refined and streamlined — particularly when it comes to eco-friendly building systems and processes. Three emerging areas of sustainable construction are worth noting for professionals in the facility management sphere and beyond.
Passive Building Design
Going one step further than energy management systems, passive design keeps energy consumption to a minimum by making the control of temperature and electrical lighting far less of a necessity to begin with. Maximizing natural light and masterminding the maintenance of ideal indoor temperatures all year round, from floor to ceiling to roof, the innovative techniques associated with passive design quite simply make buildings more functional and comfortable from day one. For facility managers, reduced energy and lighting costs mean additional budget for other crucial areas. What's more eco-friendly offices, particularly those with increased access to natural light, are proven to have a powerful positive effect on productivity.
Sustainable Building Materials
A perfect partner to passive building design is the use of sustainable construction materials. From sustainable concrete alternatives, such as self-healing concrete (which becomes active when exposed to moisture and fills any cracks that form over time, without the need for manual maintenance) to reclaimed wood sourced from responsibly managed forests, sustainable building supplies are becoming a progressively more popular construction solution.
Facility managers will, of course, be invested in the use of affordable, durable materials when it comes to the construction of the buildings they manage — and thanks to the increasing demand for green developments (compounded by increasing societal and governmental pressure), eco-friendly building materials are becoming the industry standard.
Modular Construction
Modular building systems are being implemented in industries including — but not limited to — the hospitality, healthcare, education, and defense sectors. Lightweight, efficiently manufactured room modules and lightweight steel framing solutions have revolutionized complex, large-scale construction jobs by creating cost, time and resource savings — all while offering environmental benefits.
With sustainable innovations ranging from grey water recycling and mechanical ventilation heat recovery systems to the use of FSC-certified wood in bathroom pods, modular kitchens, and more, offsite construction provides a more efficient, affordable, and environmentally friendly alternative to traditional building processes.
As the demand for sustainable construction methods continues to grow, so too will the industry's appetite for recycled building materials, energy-efficient design innovations, and the smart technology able to help these green buildings reach their true potential.
Tori Atkinson is a content creator for Elements Europe is an offsite construction company specializing in sustainable modular building systems, and part of the Pickstock Group.
posted on 4/23/2018