« Back to Facilities Management Green Category Home
Does It Cost "Too Much" to Make Existing Buildings Green?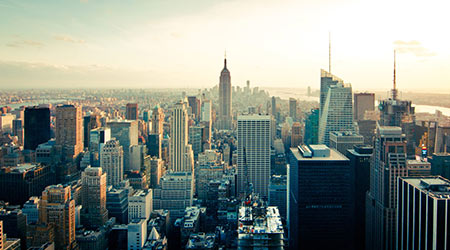 March 27, 2019 - Green
By Dick Samson
To help save the environment and reach the UN's sustainability goals, millions of buildings must get smart and green by 2030. That's a tall order. And it will cost an arm and a leg. Right?
That's the common perception. But is it so?
For a reality check, I spoke with two leaders in building management and data automation systems: Daniel Scalisi, chief operating officer, SmartCSM; and Martin Powell, head of urban development, Siemens AG.
Both offer evidence that companies can not only go green economically, they can actually make money at it.
Scalisi points to substantial savings from the simple act of going digital. "Once organizations start managing their electrical, HVAC, and other systems online instead of on paper," he reports, "large efficiencies result." He says savings 10 times greater than total program costs are possible.
That's an incredible-sounding ROI, but Scalisi says it's realistic. "We see it for buildings of all sizes in all industries, from manufacturing and medical to universities and government." The savings are based on reduced man hours or redundant work associated with previously poor paper records; eliminated redundant work by contractors or in-field teams; and avoidance of unforeseen shutdowns.
Getting buildings online and all-digital is the first of three stages in making buildings really smart and green over the next decade. The second stage is linking online buildings to a smart, cloud-based platform or building management system (BMS). This enables online buildings to gain knowledge, AI skills, and access to the internet of things (IoT).
The financial benefits of stage 2 are harder to predict than for stage 1, but may be substantial if you proceed wisely. The key, according to Powell, is to choose a BMS supplier that's right for you. He offers two guidelines:
• First, look for broad competence in your areas of concern. "Experience in the underlying infrastructure you are connecting to the platform is essential," he says, "plus the ability to focus on the practical data analytics that can improve traffic congestion or reduce air pollution or improve the energy efficiency – whatever you are after."
• Second, ask for assurances of effective, profitable results. Promises are not enough. "Look for a provider that can guarantee outcomes in your sector through performance contracting," he says. "For example, ask if they can guarantee energy reduction outcomes that pay for the entire upfront cost of retrofitting and installing the new technology."
Stage 3 of the revolution is helping cloud-managed buildings evolve from merely "smart" into "genius" buildings. This stage will happen in many small steps made possible by ever-smarter elements of the Building Internet of Things (B-IoT).
Tens of billions of IoT devices are projected for the later years of this decade. In time just about anything — from window panes to door locks — could become IoT things.
For example, there's a new B-IoT sensor for improving waste removal. You just stick it to any waste container and it will start measuring the fill level in real-time. Then it will keep you posted on the contents. It's being tested in the city hall of a major city, which expects large savings from emptying bins only when they're full.
Each new B-IoT device like this, may add a lot, a little, or nothing to a building's sustainability or profitability. So the "drill" is to introduce only the new options that are most double-green — saving the most money as well as doing the most to save the environment.
In all three stages, building professionals will need to get a lot smarter, along with their systems. Scalisi puts it this way: "We're evolving from a connected-data-view platform to an interactive one with IoT devices evolving into a predictive data platform in Step 3. This will happen by merging day-to-day online-maintained data records with IoT devices to deliver predictive management recommendations for better operating decisions."
Great, but those decisions will require a lot of human smarts.
Powell advises broadening our social concern as well as our knowledge. "Whether you approach a single building, multiple buildings, or a big development or campus, it's important to address everything that is possible for your organization," he says. "But it's also important to include meeting the highest environmental standards as well as promoting positive social outcomes to the benefit of society overall."
Dick Samson (dicksamson@eranova.com) is director of EraNova Institute. EraNova Institute is developing the "Smart Green Deal," a strategy that may be used to create smart, green buildings (or other systems) rapidly. Requiring no legislation, it simply offers double-smart, double-green guidelines that may be applied by anyone.
posted on 3/27/2019