You Might Like
On FacilitiesNet
Taking Next Steps to Energy Efficiency in HVAC System
Part 2 of a three-part article on HVAC savings
OTHER PARTS OF THIS ARTICLE
Pt. 1:
Boilers and Water Heaters: Planning for HVAC Savings
Pt. 2: This Page
Pt. 3:
Boiler and Water Heaters: No Cookie Cutter Solutions for Improved Efficiency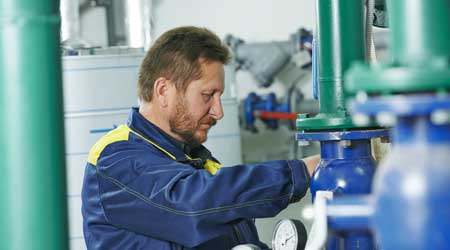 The next phase in developing and implementing a program to improve the energy efficiency of boilers and water heaters requires that managers lay out specific steps that supervisors, technicians and, if needed, contractors can carry out to address the challenge.
The first step is to make sure ancillary systems are cleaned and tuned up. This process includes maintenance of steam traps, pressure relief valve stations, condensate return units, and deaerator systems. The process also requires an updated analysis of the department's water treatment program by a qualified professional.
Next, technicians need to clean boiler heat exchanging surfaces inside and outside. They also will need to perform fire-tube cleaning, inspection and remote eddy-current testing of the water side condition of the tubes, refractory and gasket repairs, and safety device maintenance.
The next step is to perform existing burner demolition and installation of the new high-efficiency burner. This includes a new burner management system for flame safeguard and proper sequencing of boiler modes — pre-purge, post-purge, etc. — and a new combustion control system. This step will provide advanced efficiency control, such as:
• excellent turndown ratios of up to 10:1 for part-load control without cycling the burner.
• parallel positioning, where fuel and air controls have their own actuator for independent control.
• O2 trim, where excess O2 is trimmed through air control to maintain the proper fuel-to-air mixture over the operating range without excess O2.
BACnet integration to an existing BAS system will allow extensive monitoring, alarming and remote-control points. This also includes the ability to monitor the deaerator system and fuel and steam flow meters. This feature can deliver myriad benefits, including:
• Multi-level, real-time graphic displays
• Trend and alarm analysis with data archival. This can include frequent trending at one-three minute intervals for a moving window that stops on select alarms to provide a snapshot of conditions just before the time of the alarm, which enables technicians to perform analysis and troubleshooting.
• Real-time energy input and output ratios.
Improved burner precision will improve the equipment's energy efficiency, including downturn for less burner cycling, improved fuel-to-air ratio control by parallel positioning, improved reduction in excess combustion air via continuous stack O2 trim control, and improved water-level precision control.
Efficiency improvements over the old burner system can be in the 6-30 percent range, and the vendor should be able to provide a detailed profile of a minimum 11.5 percent efficiency improvement. With the amount of fuel used by these boilers, typical payback for the project is less than two years.
Continue Reading:

Energy Strategies

Boilers and Water Heaters: Planning for HVAC Savings

Taking Next Steps to Energy Efficiency in HVAC System

Boiler and Water Heaters: No Cookie Cutter Solutions for Improved Efficiency
---
---
---
Related Topics:
Comments