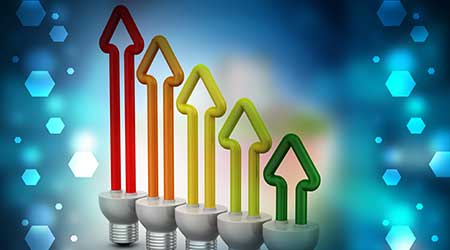 Stay the Energy Conservation Course
Keep in mind, your Energy Star score is a measure of relative performance. Maintaining a rigorous energy conservation initiative will help your score improve over time.
It's important for property owners to remember that Energy Star scores are a mark of relative performance. Actual performance measured in Portfolio Manager is unaffected by the update in survey data.
Improvements achieved through conservation programs continue to benefit the property's owner and occupants, and can include less-intensive electricity usage, lower utility bills, a healthier workplace that maximizes natural light, and in some cases, reductions in water consumption and waste generation. These worthwhile programs will continue to save money and improve an asset's appeal to tenants and investors.
Owners and tenants whose downgraded scores result in the loss of Energy Star certification will lose the marketing benefits that come with this seal of approval from the EPA, potentially lowering their competitive advantage in attracting and retaining tenants. Employers who consider Energy Star a requirement for their space may look to other properties in a site search, or if they are already a tenant in the building, may let their leases expire.
Countermeasures
In most cases, the first phase of energy conservation will have captured the low-hanging fruit of reducing weekend operations, optimizing equipment run schedules or converting some lights to fluorescent. Sustainability advisers can help landlords map out strategies to further reduce energy consumption.
Deeper cuts in power usage are more likely to require larger capital investments for items such as high-efficiency light fixtures and mechanical equipment. Yet many landlords will decide that achieving greater efficiency is worth the monetary cost. Becoming educated on the costs and benefits of improvements may now be more important than ever.
We are entering a new phase in energy conservation, where the goal may be more than a lower utility bill. Landlords and tenants are collaborating to forge a workplace that is grounded in the tenets of sustainability, and a source of employee pride.
As Director of Sustainability, Josh Richards leads Transwestern's Energy & Sustainability efforts, supporting national operations for all clients. He is spearheading projects from energy and water efficiency to enhancing asset valuation through cost-effective and environmentally conscious investment.
Continue Reading:

Energy Star

Are You At Risk For Losing Your Energy Star Certification?

Stay the Energy Conservation Course
---
---
---
Related Topics: