Preventive Health Care for Buildings
As the complexity of buildings and their systems grow, commissioning is becoming an important process.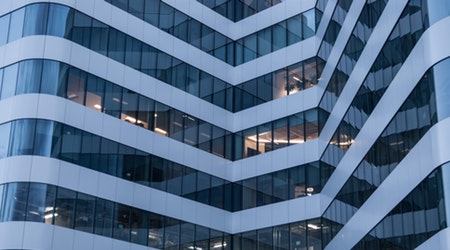 When the excitement is over and the ribbon-cutting ceremony for the new building is all but forgotten, there is only the building with its web of wires and cables, hundreds of sensors, dozens of fans and motors, innumerable controls and valves, and the owner's expectations of how it all should work. Too often, however, it doesn't. The building's operation fails the owner, sometimes in small and sometimes in large ways. As a result, money and time is spent tweaking this new building to ensure proper operation. And sometimes no amount of tweaking ever gets the building to meet the owner's design intent.
There is always plenty of blame to go around and some of it may be justified, but, the truth, is the real culprit is the building process itself. Buildings today are complex, and to cope with this complexity, the building process has become a series of sequential events, broken up into smaller and smaller pieces. The architects, engineers and contractors responsible for each piece have become highly specialized in their tasks and often too narrowly focused to recognize entire systems or the building for what it is — a single megasystem. As a result, the building doesn't perform as the owner intended, money-saving system synergies go unrecognized and critical operational information doesn't get to the facility staff.

Recognizing there is no longer one person ensuring that a new building meets owner and designer intent, a growing number of professionals, called commissioning authorities, have emerged to help design and construct buildings. The process they employ, called commissioning, adds a small amount to the first costs of constructing a building, but saves a lot more in capital and operating costs. And some owners, who thought it was unnecessary to hire someone to do what designers and contractors are supposed to do, have become proponents of commissioning. Now with the U.S. Green Building Council
requiring commissioning for all certified buildings, commissioning is becoming an not only an essential element of good design and a well-built building but for a green building as well.
Assessing the Process
The most important thing to know about commissioning is that it's not an event that happens once during construction. Commissioning is "a process that attempts to ensure that an owner's project requirements are clearly defined, that a proposed design solution meets those requirements, that installed equipment meets those requirements and that operators are trained to run the systems to keep meeting the owner's requirements," says Walter Grondzik, an architect and engineer in Tallahassee, Fla.

Architects and engineers often object to hiring a commissioning authority, Grondzik says, but architects no longer have the time to do what they once may have done to ensure the owner's intent and building functionality.

"Pressure on their budgets and time and the growing complexity of buildings have eliminated that role," he says. "An owner may think it is happening, but it's not."

Robin Smith, manager of building commissioning for Emory University in Atlanta, says the school turned to commissioning when it finally realized how poorly finished buildings actually functioned. Commissioning all buildings, beginning in the predesign phase, has had a dramatic effect on the final building and reduced both the university's capital and operating costs.

"Now we hold people accountable," Smith says. "We ask real questions and get real results before we write the checks."
Underutilized Process
The theory about potential savings was never lost on Robert Hascall, senior associate vice president of facilities management at Emory. He just didn't believe he would realize them and therefore couldn't justify the cost of commissioning a project. That changed when he commissioned his first building — a retrocommissioning on a new building. Hascall says he was amazed to find a large of number of major and minor design, construction and installation flaws.

"Now we can't afford not to commission buildings," he says.

That commissioning is applied to only a small percent of buildings and building systems is surprising given the proven worth of the process. The U.S. Department of Energy has estimated that by commissioning 1 percent of existing buildings larger than 25,000 square feet, $46 million in annual energy costs could be saved. If 7 percent of all new buildings larger than 25,000 square feet were commissioned, $4.3 million in annual energy costs could be saved.

Those are the easily quantified savings derived by eliminating obvious problems such as malfunctioning sensors calling for heating and cooling simultaneously. Kristin Heinemeier, director of the Brooks Energy and Sustainability Lab at Texas A&M, says there are even bigger benefits that are harder to quantify. "Commissioning is a way to manage risk," she says. "You have think of it not just as what was found wrong and corrected but how problems were avoided. It's preventive health care for the building."

For instance, there is increasing interest in total building commissioning where the building envelope elements are commissioned as well as all the dynamic, internal systems.

"The more complex these static systems get, especially when large wall or window units are assembled in the factory and brought to site, the more important it is that they meet the design and the owner's intent," Grondzik says. "It's not that another window system wouldn't fit in the opening in the wall, but it's making sure that what does go in there is the right system."

Hascall says that commissioning is all about getting the building he expects to get.

"With a billion dollar construction program and 11 buildings in design or under construction, we want to make sure that we are getting our money's worth," he says. "Commissioning is a very small price to pay for the design, construction and operational cost savings we get back."
Multi-phase Effort
In the most effective application of commissioning, called total building commissioning, there are generally five phases, beginning with the predesign period and ending with the seasonal monitoring of systems. The number of phases may differ if an existing building is retrocommissioned, or when a single system, such as the HVAC system, is commissioned. In general, many of the same elements are there.

The first phase — clarification of intent — may be the most important element of commissioning and the most important part of the commissioning authority's responsibilities. Ideally, the commissioning authority is hired before the architect or other possible consultants on the job, says Larry Ross, director of engineering, Erickson Retirement Communities.

"The commissioning authority should be there to help the owner with any design intent documents and in particular the owner's project requirements," Ross says. All other drawings and construction documents are going to refer back to those requirements and the owner's intent, he says. Having someone to ensure that the owner's intent is carried through from design through construction can affect documentation and specifications. Doing so reduces the number of change orders, call backs and potential legal conflicts.

Starting commissioning in the predesign phase can also reduce capital costs of the project, Smith says. Calling it capital cost avoidance, he says that the predesign effort, "moneywise, is where the biggest impact is."

The second and third phases — documentation and verification — may be the most time-consuming aspects. The commissioning authority must make sure equipment brought on site meets specifications and the owner's intent. There are checklists for contractors to fill out and verify. Then the contractor's installation may be checked and verified by the commissioning authority. This may be followed by system startup checklists.

The commissioning authority also tests the systems under various fault scenarios — called functional performance testing. Functional performance tests on the fire system, for instance, will make sure each smoke alarm will actually work when subjected to smoke, and the HVAC system actually delivers the desired amount of fresh air into the facility. All test results are then compared to design intent documents. Verification occurs during the entire construction process as systems are installed and brought online.

The commissioning authority reviews a lot of documents, Ross says. But rather than be a bottleneck, the commissioning process usually helps streamline construction by improving schedules and reducing changes.

A key fourth phase is making sure that operation and maintenance personnel get the proper training and documentation after the building is complete. One of the commissioning authority's responsibilities is to compile all operational documents into a manual or series of manuals for the staff. The commissioning authority also makes sure staff is taken through startup and control procedures, and preventive maintenance schedules.

The final phase is the testing and verification of some systems under seasonal load, such as the chillers in summer, ensuring the work meets the obligation of construction warranties.

It's important to note that the responsibilities of the commissioning authority aren't open-ended. The scope of work defined during initial meetings with the owner lay the roadmap for the commissioning authority's responsibilities. It's also important to note that the commissioning authorities have no authority to make changes in design, specification or schedules. They can only recommend changes to the owner or an architect. The owner, architect and engineer still hold final responsibility.
Cost and Benefit
One of the biggest barriers to owners, experts agree, is first cost. The cost of commissioning depends on the scope of the work agreed to by the owner and the commissioning authority, and on the size and complexity of the building.

Costs are usually a few percent of the construction costs of the project or system. Ross, who has been involved in commissioning systems and buildings since the mid-1980s, says the range is about 1 to 3 percent of total construction costs. That's for a total building commissioning where the commissioning authority is brought in to the project before design.

For the commissioning of systems, again the cost varies. For mechanical systems, the cost could range from 2.5 to 5 percent of the cost of the mechanical system. The range for electrical systems is 1 to 2 percent of total electrical costs.

Portland Energy Conservation Inc. in Oregon estimates that commissioning on a relatively simple office building ranges from $1 per square foot for a 50,000-square-foot building to about 40 cents per square foot for buildings larger than 300,000 square feet. As building complexity increases, the cost goes up. For hospitals, for instance, the cost ranges from about $1.75 per square foot for a 50,000-square-foot building to about 75 cents per square foot for a facility larger than 300,000 square feet.

Some states have programs to help cover these costs. New York is one. A program coordinated through New York State Energy Research and Development Authority offers 50-50 co-funding of commissioning projects.

Those are the costs, but there are savings too. The Oregon Department of Energy looked at the savings for buildings that were commissioned, including hard and soft costs. In hard costs, a 110,000 square foot office building had operating savings of 11 cents per square foot per year with a total annual energy savings of 279,000 kilowatt-hours. Again, the numbers don't include the "savings" of not having the additional costs of more change orders, call backs and other construction-related costs.

There are ways to get first cost savings in other areas, such as specifying smaller systems.

"Engineers look at the design loads on the HVAC system and always want to add 20 percent," Ross says. "In today's energy market, that doesn't make sense. So the commissioning authority makes sure the system can supply what's needed and have room for expansion if necessary, but not be immediately oversized."

Joe Higgins, executive director of engineering and technical services for Aramark Facility Services, says an analysis of commissioned buildings shows that building size and complexity have an impact on commissioning cost but have a negligible impact on return on investment (ROI). What really drives ROI is commitment to the process, he says.

"The number one variable on commissioning ROI is owner advocacy," he says. "The higher the level of advocacy, the higher the ROI."

The higher the value placed on commissioning and the diversity of the commissioning team also have significant impact on commissioning.

There are other softer cost savings as well because of improved indoor air quality and tenant retention. Oregon Department of Energy calculates improvements in time loss because of poor indoor environmental quality, based on complaints about temperature or air quality, to be 10 cents per square foot per year. Productivity losses because of lost work time were as high as $150 per square foot per year. The department also analyzed the cost of losing a tenant at about $90,000 to $110,000.

Ross says he expects commissioning the HVAC system to cut energy costs by 20 percent in a new development he is working on. In addition, he expects indoor air quality to improve.

Nationally, the U.S. General Services Administration estimates that operating costs for federal buildings that have been commissioned is 8 to 20 percent less than noncommissioned buildings. Annual operating savings are 17 to 54 cents per square foot.

To believe that commissioning is not necessary ignores not only the complexity of today's building but the hectic process and constant pressure of schedules as well, Grondzik says. As proof, he points to a study done by the Florida Solar Energy Center. The study was not done as a commissioning study, but what it shows is significant for commissioning. The center looked at 67 retail centers built recently in the state and found that 66 out of 67 had "serious design and construction issues unknown to the owners" that would affect the operation and maintainability of those facilities. Some of the issues were exhaust air ducts connected to the return air ducts and large gaps in the return air plenum.

"If those buildings were commissioned," Grondzik says, "it's safe to say many of those problems wouldn't exist."
Standardizing the Commissioning Process
Until now, the commissioning process has been driven by individuals and by various organizations, such as the Building Commissioning Association, the University of Washington, the University of Wisconsin and the California Commissioning Collaborative, but there has been little effort to standardize the process. That may soon change. The National Institute of Building Sciences is in the process of collecting guidelines and standards from the various trade groups. For instance, the American Society of Heating, Air-conditioning and Refrigeration Engineers is in the process of updating a draft for commissioning HVAC systems. The American Society of Plumbing Engineers and other trade groups are drafting similar documents for commissioning systems.

Jeff Traylor, vice chair of ASHRAE's Guideline 0 — a guideline for the commissioning process in general — and Guideline 1 — an update to an existing guideline for commissioning HVAC systems — says both guidelines should be out next year. Guideline 0 should provide a "fairly detailed blueprint" of the process that will not only help third-party commissioning professionals but also aid in-house commissioning professionals. Guideline 1 should be approved in January at ASHRAE's winter meeting.

---
---
---
Related Topics:
Comments