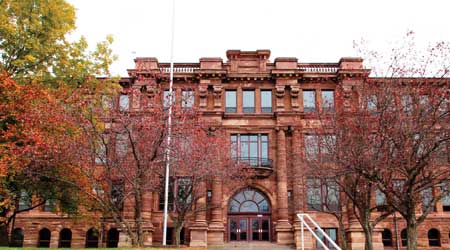 Photo: Davenport Community School District
Head of the Class: Geothermal Delivers Savings
Davenport Community School District's investment in geothermal technology drives its energy efficiency to the top of the list.
Maintenance and engineering departments rarely get the credit they deserve for their efforts to, among many responsibilities, keep facilities safe, energy efficient and sustainable. So when a department brings statewide recognition to its organization, a little self-congratulations are in order.
"We try to pat ourselves on the back and pat our team on the back and give them recognition for the effort that they put in," says Michael Maloney, director of operations with Davenport Community School District, referring to the district's ranking as having the most energy efficient K-12 schools in Iowa. "Increasingly, we are recognized by the local media, by our board, by the different associations that we belong to. It's a point of pride, and there's some friendly competition among some of us in school districts."
Eye on energy
Maloney is referring to the Iowa Department of Economic Development's B3 Benchmarking project for public buildings, which ranked the district as having the lowest cost per square foot of Iowa public K-12 schools.
"When compared to another school district in Iowa closest in size to ours, we pay $0.55 per square foot less," Maloney says. "If we paid their rate, we would increase our annual cost an additional $1,805,606. If we paid even the average cost per square foot per year — $.093 — of the Iowa public schools currently using the energy tracking database, we would increase our annual costs by more than $1,083,364."
The district's emphasis on curtailing energy costs comes as public organizations nationwide face the growing challenge of scarce public funds for operations, maintenance and energy.
"Energy costs are second only to personnel costs as the leading draw on K-12 school district operating budgets," Maloney says, whose district if about 3.3 million square feet includes 17 elementary schools, five intermediate schools, four high schools, two pre-kindergartens, seven administration and operations buildings, and three athletics sites. The oldest school building currently in operation opened in 1905, while the newest is 2006. The average building age is 67.
To curtail energy waste over such an array of facilities, the district has undertaken multiple energy-efficiency measures since July 2018, 49 of which were eligible for rebates, Maloney says. The projects include LED lighting projects, occupancy and vacancy controls, roof insulation, retrocommissioning, quick and low-cost building tune-ups, and kitchen hood optimizations.
While the energy savings from the upgrades have been substantial, the district had other reasons to enrol in the state's program.
"We're at about 49 cents per square foot, but it wasn't our goal to achieve that number," Maloney says. "When the benchmarking system first went live, we got on board for a number of reasons. For example, it helped us automate the data entry of our utility bill and take that work off the plate for one of our clerical staff." The district's efforts to improve energy efficiency were broad-based.
"It was a matter of, 'Let's do every possible thing,' " Maloney says. "Our board adopted an energy policy, and we've put a lot of effort into controls and into temperature setbacks in unoccupied spaces and turning things off. It's in the culture now — turn the lights out.
"Operationally, let's do every possible thing to save energy, and in our capital work, let's always make decisions based on energy savings. We are in the middle of lighting retrofits. About 65 percent of our building already have been switched over to LED lighting and automated lighting controls and automatic dimming when there's sufficient daylight."
In addition, between July 2017 and June 2018, the district saved money on utility costs in spite of increasing building square footage and total energy consumption, as well as experiencing a warmer summer and colder winter.
Continue Reading:

Project Management

Head of the Class: Geothermal Delivers Savings

Head of the Class: Specifying and Installing Geothermal Systems

One K-12 District's Lessons and Benefits from Geothermal Systems
---
---
---
Related Topics: