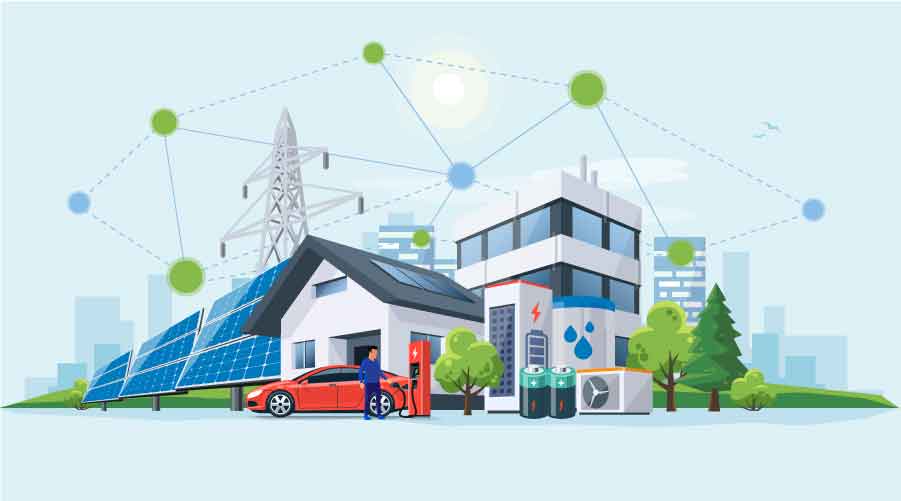 Building Electrification Is Reaching Critical Mass in Commercial Facilities
As building electrification gains momentum as a decarbonization strategy, an expert weighs in on what facility managers need to know now.
As building electrification gains momentum as a decarbonization strategy, an expert weighs in on what facility managers need to know now./DECK-->
Earlier this year, Washington became the first state to pass legislation to require building electrification in all commercial buildings. Facility managers have been hearing about the importance of building electrification as a greenhouse gas emissions reductions strategy for years. But Washington's new legislation – joining several cities like New York, Denver, and Eugene, Oregon – is a sure sign that building electrification strategy is reaching critical mass in commercial facilities.
But how do facility managers make this switch? FacilitiesNet talked recently with an expert on building electrification, Stephanie Greene, managing director of RMI's carbon-free buildings program, about everything facility managers need to know to get started on a building electrification initiative.
FacilitiesNet: First the basics: What is building electrification, and why is it an increasingly important strategy for carbon emissions reductions?
Stephanie Greene: Building electrification is the movement away from polluting fossil fuel combustion appliances — like gas boilers and domestic hot water heaters — toward all-electric equipment such as high-efficiency heat pumps, rooftop units, and networked geothermal/ground-source heat pumps that provide reliable clean heating and cooling to multiple buildings.
Electrification can play a major part in commercial buildings reducing their carbon emissions. In 2020 the American Council for an Energy-Efficient Economy produced a study that showed commercial buildings that replace their gas-burning heating systems with electric heat pumps could reduce their total greenhouse emissions by 44 percent. 
Many factors are driving the push towards electrification. Clean technology is advancing by leaps and bounds, including cold climate heat pumps and ground-source district heating and cooling systems. In the U.S., state and local climate policies and codes are being enacted to require all-electric construction in major real estate hubs like New York City. On the demand side, businesses and shareholders looking to achieve ambitious ESG and carbon reduction goals are realizing the enormous role electrifying buildings can play in future-proofing assets from volatile fossil fuel prices while improving occupant comfort, health and safety. The electrification of buildings will also occur alongside other demand shifts that intersect with buildings, most notably electric vehicles and transportation. As the market for EVs takes off, more tenants will demand that owners and managers install the right charging infrastructure.
FN: What is the financial story with building electrification? How do upgrades in commercial buildings pencil out from an ROI basis?
Greene: When it comes to existing commercial buildings, we like to say electrify everything...efficiently. Through the Empire Building Challenge in New York, we worked with NYSERDA and others to develop a framework called Resource Efficient Decarbonization so owners and managers can make strategic improvements at the right time. Building engineers can start with modeling energy consumption data across granular temperature "bins" and planning for electrification with "easy" loads like domestic hot water, then mild temperature loads (typically representing 80 percent or more of total loads), and finally for the extremes. This is a cascade approach that can work well for larger properties. When it isn't feasible to electrify everything at once, it's still possible to advance cost-effective and energy-saving projects for different areas of a building.
In addition to a growing number of financing options like C-PACE and available financing from various green banks, there are multiple federal and state incentives, as well as utility incentives for efficiency and electrification improvements that commercial owners can take advantage of now. And with billions in new provisions in the recently passed Inflation Reduction Act, there will be more opportunities than ever before for commercial owners to lower upfront costs and take necessary steps to get their properties to net zero emissions while improving performance and ROI.
When looking to electrify an existing commercial building it's also important to take a holistic view of upgrades by harnessing opportunities for not only electrifying old and inefficient equipment at key intervention points (e.g. tenant turnover or equipment reaching its end of life), but also improving efficiency of the envelope, using building management systems, and using low-embodied carbon materials to achieve a healthy, resilient and comfortable building that makes tenants happy — which we've seen has an enormous impact on asset value.
RMI did a recent study on Grid-interactive Efficient Buildings (GEBs), which are energy-efficient buildings that optimize energy use for grid services, occupant needs and preferences, and cost reductions in a continuous and integrated way. We analyzed a large retail chain and saw it could cut energy costs by 37 percent and carbon by 27 percent across its building portfolio of 113 stores modeled with an attractive rate of return. In several of the locations analyzed, it is cost-effective today to install high-efficiency electric heat pumps when combined with additional efficiency, demand flexibility, and rooftop solar measures.
FN: There has been much talk about heat pumps, but a lot of the conversation has focused on residential. How can heat pumps also benefit commercial facilities? 
Greene: A lot of electrification discussions start with heat pumps, and for good reason. Heat pumps super-efficiently use electricity to move heat from one place to another instead of relying on fossil fuel combustion. Our power grids are only getting cleaner as more renewables come online, and heat pump technology continues to advance. With modern heat pumps that include but is not limited to variant refrigerant flow (VRF), the equipment uses three times less energy than its fossil fuel counterparts while being one of the most climate-friendly heating and cooling options that can work even in colder states like Maine and Minnesota.
For larger and more complex buildings, a variety of heat pumps exist to heat and cool spaces and water, whether they are air-source, ground-source, or other potential sources like wastewater or district systems. Other heat pumps can be used as part of the building's distribution system, boosting supply temperatures and moving or recovering heat from where it is not wanted to where and when it is. In many load-dense commercial buildings, significant cooling occurs year-round. Today the default solution is to run economizer cycles that releases unwanted heat to the outdoors. But if that heat is recovered and redistributed to where it's needed, or stored for evenings or mornings warm-ups, commercial buildings can drastically reduce heating loads, downsize equipment, and even heat themselves for much of the year. My colleague Brett Bridgeland explains this in further detail here along with the innovative concept of Resource Efficient Decarbonization that's being pioneered through the Empire Building Challenge.
FN: How does building electrification dovetail with recent and forthcoming Building Performance Standards? Are there also ways building electrification strategies complement voluntary sustainability standards like LEED? 
Greene: In answering your question, it's important to first note that it's unlikely that a commercial building would undertake a narrow scope of work that's only about switching out fossil-fuel burning systems. In practice, this would happen through a multi-year plan that considers the end of life of a range of energy-using systems and also involves investments in energy efficiency. 
When it comes to Building Performance Standards, the interface with electrification depends on the metric for the particular regulation, prominent examples being site EUI (e.g. Washington and Washington D.C.) and carbon emissions (e.g. New York City). Electrification will generally lower site EUI, but the amount of reduction will depend on the efficiency of the existing and new equipment.  
The answer is more complicated with a carbon metric, but the short answer is that electrification would still almost always reduce carbon emissions. Depending on the carbon intensity of the electrical grid, a unit of electricity may be associated with more or less carbon than a unit of fossil fuel. But even where the grid has a high carbon intensity (e.g. New York City), electrification would still reduce carbon compared with fossil fuels because heat pumps are so efficient.  
LEED can be complementary to, but is not the same as, an all-electric, zero-carbon building. The points system can support electrification primarily because the only way to get the maximum number of LEED energy "points" is by having zero carbon energy sources — which means not burning fossil fuels. Half of LEED energy points are awarded for reduction in energy cost, and the other half for reduction in GHG emissions. 
Please click here for another RMI article on building electrification.
Greg Zimmerman is senior contributor editor for the facility group, which including FacilitiesNet.com and Building Operating Management magazine. He has more than 18 years' experience writing about facility issues.
---
---
---
Related Topics: