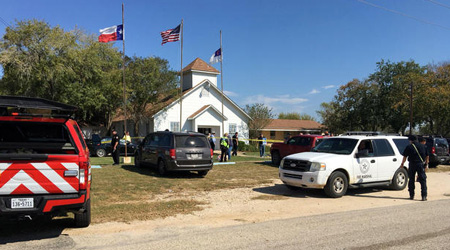 Texas shooting: Church in Sutherland Springs Will Be Demolished
Managers who are able to plan for the worst case scenario of an active shooter by taking proactive steps to limit the situation before it even begins, can save lives.

The Texas church where more than two dozen people were killed by a gunman during Sunday services, early this month, will be demolished, the pastor said, according to a report on CBS News.

Pastor Frank Pomeroy, whose 14-year-old daughter was among the victims, told leaders of the Southern Baptist Convention earlier this week that it would be too painful to continue using First Baptist Church as a place of worship.

Click here to read about planning for an active shooter.

The pastor described the building as "too stark of a reminder" of the massacre, spokesman Sing Oldham said.

Oldham said Pomeroy was considering building a memorial garden in its place.

Other sites of mass shootings have been torn down, including Sandy Hook Elementary in Newtown, Connecticut, where a gunman killed 20 children and six adults in December 2012. A new school was built elsewhere.

Click here to read about practicing full scale active shooter drills.

A one-room Amish schoolhouse near Lancaster, Pennsylvania, was torn down in 2006, 10 days after an assailant took children hostage and shot and killed five girls ages 6 to 13.

The previous site of the school is now a pasture. A nearly identical schoolhouse with a security fence was erected nearby and named New Hope School.

Read more about about active shooter mitigation and workplace violence by clicking here.

This Quick Read was submitted by Ryan Berlin, managing editor of Facility Maintenance Decisions, ryan.berlin@tradepressmedia.com.
---