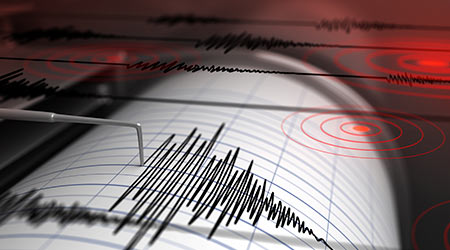 How to Protect People and Society From Earthquakes
Preparing for natural disasters has become a higher priority for many managers in institutional and commercial facilities as the frequency and severity — and cost to recover from — of events such as floods, hurricanes and wildfires has increased in recent years. Earthquakes present managers with an even tougher challenge because preparation often involves incorporating costly materials and technology into new and existing facilities.

Earthquakes, of course, are natural phenomena. But the amount of damage they cause is a function of decisions made by politicians, engineers and business executives.

Japan and the United States, two of the world's most technologically advanced countries, have the same problem — how to protect people and society from earthquakes — and yet they have responded in very different ways, according to The Business Times.

Japan, through government mandates and its engineering culture, builds stronger structures capable of withstanding earthquakes and being used immediately afterward. The United States sets a minimum and less-protective standard with the understanding that many buildings will be badly damaged.

The two approaches reflect different attitudes toward risk, the role of government and collective social responsibility. The U.S. philosophy has been to make more resilient buildings an individual choice, not a government mandate.

Inherent in this approach to seismic engineering is a risk calculation: Many American engineers operate on the assumption that a building, which might be used for 50 years before it is torn down and replaced, has a relatively small chance of being hit by a huge earthquake.

Thousands of other buildings in the country have been fitted with shock-absorbing devices that can greatly reduce damage and prevent collapse. But with notable exceptions, including Apple's new headquarters in Silicon Valley, the innovations have been used only sparingly in the United States. Seismic safety advocates describe this as a missed opportunity to save billions of dollars in reconstruction costs after the inevitable Big One strikes.

Dan Hounsell is editor-in-chief of Facility Maintenance Decisions.

---