Facility Manager Cost Saving/Best Practice Quick Reads RSS Feed
Earthquake Drill Shows Many Brick Seattle Buildings Unprepared
December 3, 2021 - Contact FacilitiesNet Editorial Staff »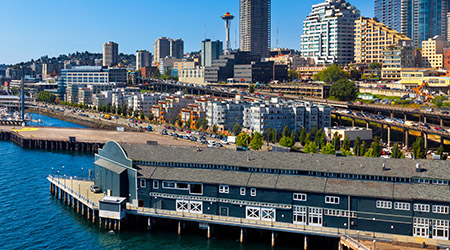 An annual drill in Seattle revealed that while more of the city's vulnerable buildings are prepared for an earthquake, a large number of them still are not, according to the city's NPR radio station website.
The Great Shake Out – an annual earthquake drill in the state of Washington – revealed that half of the city's old brick buildings have had some seismic work done to them to help them survive an earthquake. While that total is up 10 percent from 2016, it still shows that a number of structures around the city remain vulnerable to an earthquake.
The at-risk buildings, known as un-reinforced masonry buildings, are susceptible to tremors because nothing holds the walls and floors together.
The city counted 1,287 older brick buildings as unreinforced. Among the buildings are homes, commercial facilities, concert halls and schools. Seven schools are included on the list, including three buildings at the University of Washington, located in Seattle.
Seattle maintains an inventory of buildings that are reinforced. The list includes addresses of the buildings and what retrofit work has been done. Reinforced buildings receive upgrades such as basic structural anchoring to full retrofits. The expensive cost of retrofits is one of the reasons why some building owners have not yet reinforced their buildings.
The city and state both have hesitated to require seismic fixes for the older buildings. Seismic requirements do exist for new commercials and remodels.
Dave Lubach is managing editor, facility market.
---
Comments