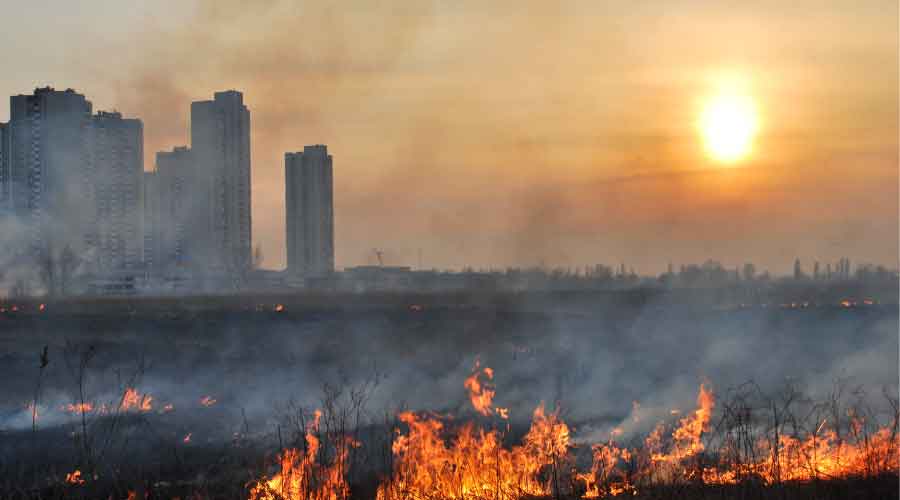 Strategies and Tactics to Maximize Wildfire Protection
Preparedness will minimize the impact wildfires have on facilities, occupants and operations.
Wildfires have never been high on the list of concerns of many maintenance and grounds managers in institutional and commercial facilities. While managers know that wildfires occur, many felt that they were limited to just a few areas of the country, and their prime season lasted for only a few months.
That is all changing because of climate change. Annual commercial property losses due to wildfires now total in the billions of dollars. Their impact is no longer limited to a few regions of the country, and they have nearly become year-round occurrences. To keep their facilities and their occupants safe, managers must change their approaches to wildfires.
Wildfire dangers
Wildfires expose facilities to several different types of dangers — burning embers, radiant heat and direct flame contact. Any wildfire protection plan must address all three of these factors if it is to be successful.
Burning embers represent the most serious threat to buildings. Wildfires can produce significant winds, which can carry burning embers that land on the surrounding property and the building itself, and can even be drawn into the building through vents and open windows and doors.
Radiant heat is also a significant threat to facilities. Wildfires produce temperatures that are sufficient to cause the emission of very high levels of thermal radiation. High enough levels of thermal radiation over a long enough period can ignite exterior components of the building. When combined with high winds, it can cause windows to fail, resulting in direct exposure to the building interior.
Direct flame contact can readily ignite combustible materials close to the building, as well as combustible building exterior components, such as siding and roofing.
Developing the defense
To protect facilities, occupants and operations from wildfires, managers must create a defensible space surrounding their facilities. This space should extend at least 100 feet from all sides. This space then is divided into three zones, each with its own protection elements.
Zone One extends from the building exterior surface to 5 feet and poses the greatest danger to the building if it were to ignite because it would expose the building exterior to direct flame contact.
No flammable material should be installed or stored in Zone One. Managers should consider using stone instead of wood mulch. If it is necessary to install some type of vegetation in this area, select low-growing, non-woody plants, and provide irrigation. Grounds crews should police this area regularly to avoid the buildup of dry leaves, other dead vegetation and combustible trash.
Zone Two extends 5-30 feet from the building's exterior. Any planting of trees and shrubs in this zone should be limited to small clusters that are separated to reduce the risk of allowing the fire to spread. The height of all planting should be limited to prevent the generation of windborne embers that could be carried to the building exterior. As in Zone One, workers should regularly police the area to prevent the accumulation of combustible dead material.
Zone Three extends 30-100 feet from the building's exterior. The objective of this zone is to slow down the spread of wildfire by reducing the amount of combustible material that otherwise would give it additional energy.
Trees and shrubs should be spaced sufficiently far apart to prevent the spread of fire from the top of one to any adjacent tree or shrub. Crews must remove dead trees and shrubs to limit fire spread. As with the other two zones, workers need to routinely police the area to remove leaves and other dead vegetation.
James Piper, P.E., is a national consultant based in Bowie, Maryland. He has more than 35 years of experience with facilities maintenance, engineering and management issues.
Continue Reading:

Fire & Life Safety

Strategies and Tactics to Maximize Wildfire Protection

How Managers Can Prepare for Wildfire Season
---
---
---
Related Topics: