Even if Code Doesn't Require Generator, HEI Hotels is Exploring Options in Wake of Power Outage
When Hurricane Sandy came calling, the SpringHill Suites in Newark, N.J., owned by HEI Hotels & Resorts, had 200 rooms, an 80 percent occupancy rate, and zero emergency generators.
Unlike many areas, the local codes don't require generators for hotels. So for the next 25 hours until the power came back on, hotel staff and guests had to make do with battery-powered lights and glow sticks — until those started running out. The key systems had battery backups, but after six to eight hours, the batteries started dying.
"Every hotel, this hotel included, had its stock of emergency batteries and supplies," says Bob Holesko, vice president of facilities, HEI Hotels & Resorts, which owns the hotel. "But that's only for a short-term power failure. The fact that this was 25 hours, batteries were dying out, the 12-hour glow sticks — you figure you pop a 12-hour glow stick, you're good — well, all of a sudden you've given out 200 glow sticks and people are coming back and saying, 'Mine's dead, I need another one.'"
Luckily, no one at the hotel was hurt and the facility didn't suffer major damage beyond the power going out, so staff could focus on relatively minor inconveniences like having to figure out a way to illuminate hallways. But as Holesko says, the major effect of Sandy is that it redefined what is needed to get through an emergency.
"The No. 1 takeaway was emergency power; the No. 2 takeaway was make sure you had emergency supplies to sustain a longer period of a loss of power," he says. "Typically, you've got one round (of supplies), and, typically, you can go buy more," but, this time, even the major retailers couldn't keep up with demand for equipment such as portable generators.
The immediate solution, after the initial crisis passed, was to invest in an emergency generator for the property, which is secured outside the building and can light the front entrance, rear parking lot, lobby and other critical areas, Holesko says. For a longer-term fix, HEI is exploring a permanently installed generator that would automatically kick in during a power failure to run critical systems.
All in all, Holesko says, Sandy was far from the norm, but it reinforced the importance of being prepared as early as possible.
"Typically, you have a power failure, it's a couple hours at the most; the power company shifts it around and you're back online," he says. "But obviously, everyone knew this one was going to be for an extended period of time."
— Casey Laughman, managing editor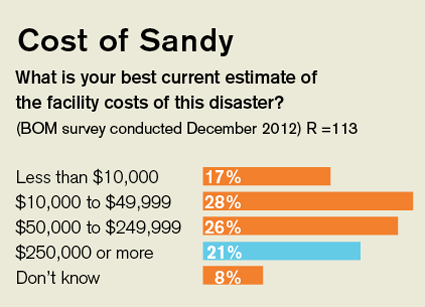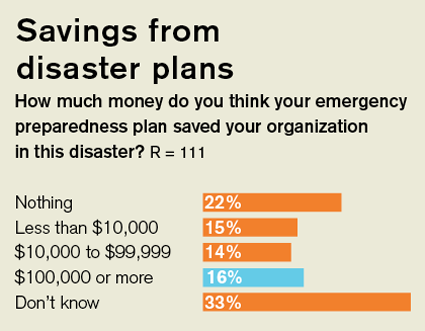 ---
---
---
Related Topics:
Comments