Facility Manager Cost Saving/Best Practice Quick Reads RSS Feed
Are High-Rise Elevators COVID-19 Death Traps? 
June 17, 2020 - Contact FacilitiesNet Editorial Staff »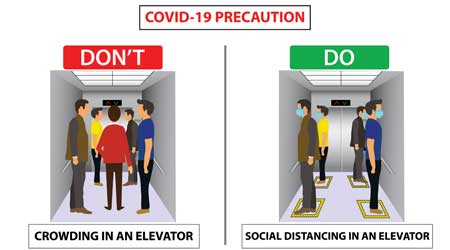 Your building occupants returning to reopening office buildings will face one anxiety-inducing challenge after another just to get to work: Crowded mass transit, bottle-necked sidewalks, and long lines at the coffee shop. And then, how do they get to the 45th floor? How many occupants will be willing to pile into vertically moving COVID-19 death traps just to get to their offices? How can FMs convince occupants that elevators are safe?
An infection control plan for elevators must be a crucial part of any return-to-work policy for high-rise buildings. That's because elevators meet at least two of the conditions that we know can easily spread the coronavirus: High-touch surfaces and people confined in a tight space breathing each other's air.
So how can facilities managers make elevators safe in the time of the coronavirus pandemic? Experts suggest that elevators should only include four passengers, each wearing a face covering, and each facing into a corner of the elevator car. As well, facilities managers should make available tissues, toothpicks, or some other tool for occupants to press the buttons, according to a recent story in the Chicago Tribune. Finally, and perhaps most importantly, elevators must be cleaned at a much higher frequency than in the past.
With precautions such as these in place, risk of infection should be relatively low, according to ABCNews. The biggest risk factor, according to an infectious disease expert quoted in ABC's piece, is time — so the longer an occupants spends in an elevator, the higher risk of infection.
The biggest issue, however, with the new normal of elevator ridership is if only four occupants can ride at a time, this can create a situation where people are congregating outside the elevator bays or in the building lobby. Solving this issue will take a group effort of all tenants in the building — staggering work starting times, only having employees in the office on certain days, and encouraging occupants to use the stairs, if possible.
Elevator manufacturers are working on technology solutions, as well — including destination dispatch solutions linked to an access control badge, capability of calling elevators with a mobile app, and express elevators for top building floors. But these technologies will take some time to find their ways into buildings.
For now, the best thing facilities managers can do is to ensure elevators are continuously cleaned, and that occupants are not overcrowding them.
This post was submitted by Greg Zimmerman, executive editor, Building Operating Management and FacilitiesNet.com.
---
Comments