You Might Like
On FacilitiesNet
Technology Drives New Best Practices in Elevator Maintenance
The Building Internet of Things is transforming elevator maintenance — problems can be detected before an FM even knows an elevator is down.
OTHER PARTS OF THIS ARTICLE
Pt. 1:
Careful Screening Required to Find Reliable Elevator Service Provider
Pt. 2: This Page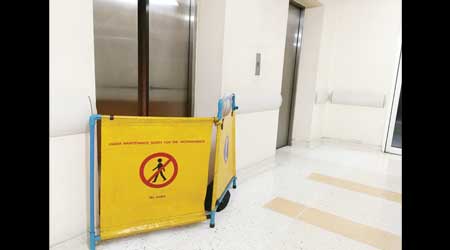 Today, facility managers have a new factor to consider as they evaluate ways to ensure good elevator performance: B-IoT technology is beginning to transform elevator maintenance.
"This is the next generation, fed by data, and is the next seismic shift in our industry. We've gone from steam to electric, relay to microprocessor, and now IoT and big data and sensor kits," says Greg Nagle, vice president of portfolio for Schindler Elevator Corporation, North America. "As we move into the digitization age, you want a provider that has the capability and can provide you with the best information possible to make good, informed decisions."
One advantage of these B-IoT systems is that they can detect problems before the facility manager even knows that the elevator is down. What's more, they let technicians know what the problem is, so they can bring the right tools and parts and repairs can be accomplished more quickly.
Another benefit is predictive analytics — identifying patterns gleaned from data that indicate problems which will ultimately lead to a shutdown. These warnings, based on patterns gleaned from data, allow a technician to be sent out to address a problem before it leads to an elevator breakdown.
"Historically elevator maintenance was based on a set schedule," Nagle says. Now the elevator tells the service provider that it needs to have maintenance. "So that's a big shift — inviting the elevator into the conversation to tell us when it needs to be serviced."
In addition to advanced monitoring that tracks elevator health around the clock, new tools and technology include service apps for mechanics, and passenger alerts that automatically connect them to service representatives in the event of an elevator incident, Bowler says.
Callbacks are the most important data point, which each company treats differently. "We look for repeat callbacks on the same unit or repeat callbacks on the same component. We check those data points, tracking the number of callbacks per elevator per year," says Erik Zommers, senior vice president and general manager for Mitsubishi Electric US, Inc. Elevator & Escalator Division. The industry looks at either callbacks per year or mean time between callbacks.
"Elevator controllers are very sophisticated, whether you are looking at them onsite or through a remote monitoring," says Zommers. If the elevator's technology is up to speed, a provider has the ability to tell which components are near the end of life and need to be replaced.
After the contract is signed
Monitoring and evaluation of a service provider should continue even after a contract has been signed.
"Get to know your service provider and ask for a periodic report, which says what they did, how many hours they put in on your building, and what they discovered," Zommers says. "Every company will gladly do that, but most customers don't ask."
It is also important to hold the provider accountable, since they might fall short for one reason or another. "Maybe the technician is loaded with too many units on their route, which has become a common problem in some markets," Zommers says. "Get what you are owed from the starting point. A lot of times that might solve your issues if you are experiencing problems."
Regardless of provider, each facility must have a unique approach to elevator maintenance, says Nagle. A long-term plan is necessary. Elevators and escalators have long life spans, and the equipment will eventually need to be modernized, Nagle says. The goal is to have a plan to transition quickly before equipment becomes problematic, not only from a capital standpoint but also from an operational standpoint, so that elevator performance remains steady over time.
Maryellen Lo Bosco is a freelance writer who covers facility management and technology. She is a contributing editor for Building Operating Management.
Continue Reading:

Elevators

Careful Screening Required to Find Reliable Elevator Service Provider

Technology Drives New Best Practices in Elevator Maintenance
---
---
---
Related Topics:
Comments