« Back to Facilities Management Lighting Category Home
Human-Centric Lighting for Schools, Hospitals, and Offices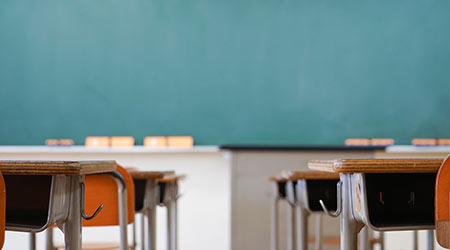 March 26, 2018 - Lighting
By Summer Albergotti and Marissa Keisler
With the advance of LED technology and the ability to control light output and color temperatures, facility managers are hearing about "human-centric lighting" and growing increasingly curious about how this new technology can be effectively utilized in a commercial and institutional environments like schools, hospitals, and offices.
In a recent AIA study, architects and building owners noted they are beginning to place greater emphasis on the impact of design decisions on human health. Nearly 75 percent of architects and 67 percent of owners say health considerations now play a role in how their buildings are designed, indicating that healthy environments have become an important tool in marketing to faculty, students and staff. Advances in lighting technology are having an impact on this trend.
For those unaware, lighting manufacturers now offer the option of changing the color temperature within a luminaire to create various environments within a space. In the past, changing "scenes" within the same space would require multiple luminaire types with different color temperatures. This can now be accomplished within a single luminaire and can be achieved without sacrificing lumen output.
Lighting manufacturers have a responsibility to consider human centric lighting and color tuning technology to meet the needs of each individual customer. More research will continue to be conducted as scientists and manufacturers work together to create the most productive, healthy environment for all subjects in these areas.
Now that the technology is commercially available, however, facility managers are asking, "What are the practical applications?" Here's a cheat sheet for the lighting principles that have been proven and what is still to be determined.
Education
In the educational space, teachers and administrators now have the option to customize the learning area to produce a more cohesive learning environment. There is no question that natural light has a positive effect on the human body, which is the reason why windows are in the majority of classroom environments. Exposure to sunlight allows the body to gain what it needs to maintain focus and stay alert.
The body's natural circadian rhythm (24 hour biological clock) is greatly stimulated by natural and artificial light. Utilizing the ability to tune artificial light in conjunction with natural light can create a much more cohesive learning environment.
In addition, giving the educators the ability to "warm" the color temperature of the lighting in the space has the potential to aid calming or settling actions for students just as tuning the light to a "cooler" color temperature containing more blue light could potentially help with focus.
In educational sessions with contractors, distributors, architects, and lighting designers, we are seeing increased demand for sessions that specifically address best practices for color temperature tuning in educational spaces.

Healthcare
In the healthcare environment, particularly in hospitals, one luminaire can be used for a physician to perform an examination of a patient, yet give the patient the ability to change from the examination light to a more soothing, comfortable ambient light.
Studies are currently being conducted that measure the use of artificial lighting to maintain the natural circadian rhythm of patients who are staying in interior sections of the hospital, or who are there for extended stays, to experience similar effects of natural light. The healthcare industry is researching human centric lighting and color tuning to define its effects and benefits more clearly.
For patient and healthcare professionals alike, patient experience, observation accuracy, procedure success, patient recovery, and patient safety (slips, trips, and falls, etc.) are of the utmost concern. Given the range in age of patients (newborn to geriatric), varying degree of patient mobility and duration of treatment and observation, lighting requirements vary greatly. Since the degree of difficulty and resulting implications of visual tasks performed by patients are in sharp contrast to those performed by healthcare professionals, an extreme level of flexibility and accommodation is often a priority.
Commercial
Commercial offices can be some of the most challenging areas for artificial light. Critical considerations include the visual tasks that will be performed in the space. Is it a collaborative area designed for interaction, and is color rendering a critical element? The reason for lighting can vary. Some of the most important factors that determine the amount of light needed are: the time needed to focus on an object in the space, the size of an object you are working with, the reflectance in the space, and the contrast between an object and its background.
Many spaces contain people with wide gaps between age ranges. Research shows that people over the age of 50 require a higher light level than someone half their age. Cooler color temperatures of light aid with visual acuity in a space but can sometimes be bothersome to those who prefer less light output or warmer color temperatures. The variance of the needs of people in a space made satisfying those needs much more difficult, but that was before color temperature tuning technology was available.
Although the technology is available, it may not be practical in all office situations. Individual offices will benefit from this technology, whereas a large space with many occupants would pose a challenge to keep every luminaire in the same space from having a different temperature and light output. There is still relevance, however, to creating a cohesive environment between the natural light and artificial light in the space. Lighting control technology, such as daylight harvesting, can aid with lowering light levels and creating an interior environment that is more in tune with the exterior environment.
An opportunity remains for more specific dialogue regarding the various needs of the individuals who occupy commercial spaces and the impact of color temperature tuning. Facility managers should be asking:
• How intuitive is it? Is it easy to understand? Is it easy to use? Is it promoting better technology engagement with building occupants?
• Is it versatile? Does it accommodate our requirements? Is it amenable to changes to take advantage of new opportunities? Are the occupants having to compromise?
• Is it simple? Has it been easy to implement? Has there been an opportunity to take advantage of self-configuring controls?
Through this analysis, building owners will be able to tailor lighting systems that meet their specific needs rather than a solution tailored to a more widespread or general targeted audience.
Summer Albergotti and Marissa Keisler are both technical training specialists with Hubbell's Lighting Solutions Center. Check out www.lightingsolutionscenter.com for upcoming courses about lighting and controls solutions.
posted on 3/26/2018