Propane Mowers Are Part of Green Efforts for College in North Carolina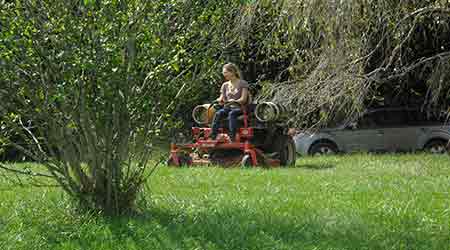 March 19, 2018 - Grounds Management
The roots of Warren Wilson College extend back to 1894 as a farm school in the Swannanoa Valley of North Carolina. The college still has a focus on land stewardship with nearly all grounds and farm work done by students. It also has a strong focus on environmental sustainability, with several LEED-certified campus buildings and cross-campus recycling efforts. In 2006, the college collaborated with its local propane retailer to convert three of its commercial mowers, used for landscape maintenance around the campus, to operate using propane. Since that initial test program, the landscape crew has continued to expand its propane use because of the fuel's performance and natural fit with the college's emphasis on sustainability.
Warren Wilson officials worked with their propane retailer to install an onsite propane refueling station and later converted the school's Suzuki mini-trucks to operate on propane — all at no cost to the college.
Tom LaMuraglia, head landscape supervisor, says the propane retailer donated another five propane-dedicated commercial mowers to the school in 2012. It's allowed the school to continue to show its commitment to environmental stewardship.
"With trying to be as environmentally-responsible as possible, that was a great deal. Our engines ran cleaner and cut down on our carbon footprint," LaMuraglia says. "Gasoline mowers are some of the most polluting engines out there."
Compared with gasoline mowers, propane reduces greenhouse gas emissions by more than 15 percent, and carbon monoxide emissions by more than 40 percent, according to the Propane Institute. Propane also operates using a secure, closed-loop fuel system, which virtually eliminates harmful spills, and dramatically reduces fuel theft.
LaMuraglia says he would recommend propane mowers and equipment to other campuses because the environmental benefits are a draw to students. It's also a plus that all of the major mower manufacturers have propane offerings available, so a college isn't required to switch to a different brand to use propane.
"The cost is less volatile than gasoline, so you can bank on a pretty stable cost for running your machinery," he adds.
The landscaping crew maintains about 90 acres, from open greenspaces on the campus to staff housing lawns in a nearby neighborhood, so training the students to operate propane mowers had to be simple if the college was going to convert to the fuel. Each year, the college's local propane retailer trains the entire crew to correctly use the propane equipment. The retailer also conducts a safety presentation and a mower demonstration, too.
"For many students, this is their first time operating a big mower, so they're intimidated," says John Odell, assistant landscape supervisor. "But most don't approach it any differently than the gas mowers. I can attest to that, going back and forth between our propane mowers and our gas-powered mowers, there isn't much of a difference."
The students also do basic maintenance on all the machines. For day-to-day maintenance - checking oil, inspecting and replacing filters, sharpening blades, checking spark plugs - Odell says the work is similar on gasoline and propane mowers.
"Once they've done it, it's a breeze, it's just another part of the routine," Odell says.
In addition to the mowers and lawn tractor used for landscaping, the athletic department runs a utility vehicle on propane, and the entire campus is served by two propane-powered "mini-trucks" that can carry landscaping supplies, or carry brush and clippings to be composted.
---
Comments