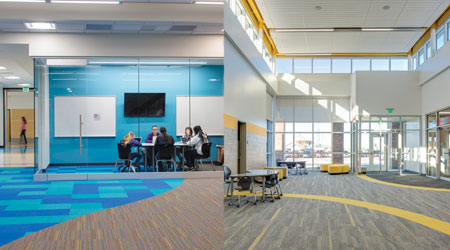 Paul Richer
Trend in Educational Facilities: Learning Studios Replace Classrooms
Technology, flexibility, fresh air: Hallmarks of improved educational facilities design strategies accelerated by the pandemic.
Experts have well-documented COVID's immediate impact throughout colleges, universities, and K-12 schools, but what will be the pandemic's long-term legacy for education? Many experts throughout the industry believe COVID accelerated the timeline for some trends and innovations that were inevitably bound to change schools even if the pandemic never occurred.
The pandemic and broader changes in pedagogy have changed how the overall layout and design of schools can better support students. For one, schools are requiring more flexible spaces as educators spend less time at the blackboard reciting facts, and more time encouraging students to collaborate. In many cases, the term "classroom" has largely been scrapped. Instead, many are using the term "learning studios" as a way to emphasize the more dynamic approach to education. At a time when the pandemic has made everyone more aware of spacing and how it affects our health and safety, more and more schools will prioritize more open and flexible spaces within their walls.
The most obvious ramification of COVID, and perhaps the most consequential, is how integral technology has become to students' routine. While educators across the country have heavily invested to provide every student with a laptop, schools often lack the necessary infrastructure to support the influx of new technology. Beyond improving WiFi capacity, classrooms often lack the electrical infrastructure to keep laptops charged throughout the day. To help schools quickly get up to speed, many design firms are working with leading internet providers to ensure schools have the infrastructure they need to succeed in the classroom. This is especially critical because millions of households don't have reliable internet access.
The pandemic also highlighted how important fresh air is to public health and wellness. Yet even before COVID, there was a growing body of research demonstrating how simply opening windows improves test scores and helps students better concentrate. Plus, better circulation can reduce demand on expensive and energy-draining heating and cooling systems.
Brian Parker is vice president at design firm MHTN.
Continue Reading:

Educational Facilities

Trend in Educational Facilities: Learning Studios Replace Classrooms

The Great Outdoors: Learning Moves Beyond the Classroom
---
---
---
Related Topics: