In Higher Education, Changing Styles of Learning Require Rethinking Traditional Facilities
First of a two-part article exploring how technology and decentralization mean adapting new facilities to new theories of education.
OTHER PARTS OF THIS ARTICLE
Pt. 1: This Page
Pt. 2:
Relationships Between Higher Education, Community Critical As Life-Long Learning Blurs Boundaries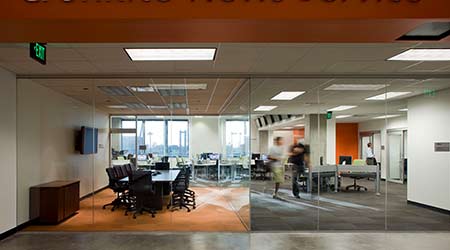 HDR, Bill Timmerman
The only thing constant is change. There is no exception to this rule when it comes to higher education. Technology, curriculum, student demographics, student expectations, campus policies and procedures — all of these are constantly evolving to respond to the challenges and needs of the time.

Physical space, however, has often been slow to change. Even as research into educational psychology and adult education has been highlighting the need for new types of learning environments for decades, many academic institutions have been unable to keep up. Today, more than ever, these institutions need to embrace innovative responses to existing and emerging pedagogies while also enhancing their overall mission and vision.

Over the past decade, there has been a slow decentralization of where learning happens. No longer confined to the four walls of the classroom or to the four years after high school, the places and times in which learning occurs are spread out across entire cities and entire life-spans. This change in how and when learning happens has changed the very function of the academic campus, intensifying its use beyond simply facilitating the learning process. These changes can be seen most clearly in three fundamental shifts: (1) the ability to learn anytime, anywhere, (2) a move towards "purpose-driven" learning, and (3) a focus on community and industry partnerships.
Learn anytime, anywhere

Earlier this year, the Georgia Institute of Technology made the news with their Masters program for computer science that costs roughly $7,000 and is hosted entirely online. This was significant as an indication that the online learning environment is getting more sophisticated, attractive, acceptable, and normalized compared to when it was first introduced over a decade ago.

Stories like these add to growing speculation about how and where students will learn in the future, particularly as the newest generation — Generation Z, those born 1996 and later — is more emboldened to take charge of their education and create their own custom pathways. Case in point: Today, many high school students are assigned projects that look into the return on investment of programs at different colleges and universities to help them become more informed about a decision they will eventually make. With the advent of coding camps and competency-based learning programs, students have more options than ever before and academic institutions across North America are feeling the pressure to demonstrate the value of an on-campus experience.

What does that mean for physical campuses? To remain competitive, universities are radically rethinking how they use their facility assets. Face-to-face social interaction and in-person collaborative learning are two aspects of campus life that cannot be recreated online or at home, so finding ways to both facilitate and promote these types of experiences is of utmost importance. Today, open, mixed-use social commons and bookable, semi-private learning spaces are becoming as common as classrooms. These spaces need to be thoughtfully designed to account for both the varying groups that will use them and also for the different types of work that will happen in them. Providing flexibility of use and adaptability is of utmost importance in these collaborative spaces.

The University of Ottawa is preparing for this reality by partnering with its new Learning Centre, which is currently under construction. "We see the Learning Centre as a unique opportunity to promote the overarching mission of the university by providing improved student service, modern teaching methods, and connectivity, flexibility, and adaptability," says Claudio Brun del Re, chief architect, campus development at the University of Ottawa.
The building welcomes both pedestrians and students, with an open, public ground floor that connects the residential campus to the east with the central campus courtyard to the west. The lower floors and basement feature flexible teaching spaces, study suites, multimedia rooms, and engaging collaboration spaces. Active Learning areas are transparent, visible from all floors through the central atrium, making it immediately clear to visitors that this is not business as usual; rather, it is a new approach to learning that pulls departments out of their individual silos, into light-filled areas shared by all.

Purpose-driven learning
As research into how we construct meaning and apply new knowledge and skills has revealed more about how we learn, we know more about what how students' surroundings impact their learning and the student experience. Hands-on and experiential learning helps ground concepts in reality and is a type of learning that is now used in elementary, middle, and high school, making it very familiar to Gen Z. Both this increased focus on hands-on learning and the growing need to help students develop skills relevant to the working world have changed the way we use our classrooms. The focus on real life experiences and problem-solving has led to an increase in simulation labs, maker spaces, and other non-traditional teaching labs. Rapid prototyping — through coding, open-source hardware, Legos, 3D printing, and laser cutting — allows students to learn through hands-on discovery. Sharing is encouraged; projects, designs, and curricula are widely available as open-source downloads.

One example of these ideas in practice is the Walter Cronkite School of Journalism at the Arizona State University (ASU) downtown campus (see photo above). The building includes a large forum for public events, two TV studios and control rooms, two digital TV newsrooms, an advanced multi-platform newsroom, a 40-seat computer teaching theater, more than 50 digital editing bays, a 150-seat auditorium, and a student services center with a reading room and interviewing rooms for internship and job prospects. It is described by ASU as "closer to more major metropolitan news operations than any journalism school in the country." Since it was built, ASU has been using the building to support an innovative model of journalism education that functions like a "teaching hospital": Students take part in highly immersive, professional programs where they generate journalism products under the guidance of faculty that have been recruited from some of the nation's leading newsrooms. They use the professional quality newsroom, studios, and editing bays to produce media for Arizona PBS.

In another example, the Jim Pattison Centre of Excellence in Sustainable Building Technologies and Renewable Energy Conservation at Okanagan College is designed to the standards of the Living Building Challenge, one of the most rigorous sustainability programs on the planet. However, the most exhilarating aspect of the Centre of Excellence is that the building itself will be used extensively as part of the curriculum. Designed as a living lab, most aspects of the building and its systems are accessible and demonstrable, making live building data available to be used as part of the learning experience. To encourage conservation and behavioral adaptation, energy use is metered at each classroom, workshop, office, and other areas. Real-time energy usage is demonstrated in each space with red/yellow/green indicators and full LED displays showing comprehensive data.

Both of these examples demonstrate how buildings are starting to respond more fluidly to the curricula that they support to give students more hands-on experience and exposure to real-world experiences.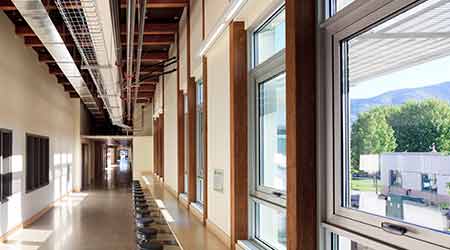 The Jim Pattison Centre of Excellence in Sustainable Building Technologies and Renewable Energy Conservation at Okanagan College is designed to allow most aspects of the building and its systems to be accessible and demonstrable. Credit: HDR, Ed White Photographics.
Continue Reading:

Educational Facilities

In Higher Education, Changing Styles of Learning Require Rethinking Traditional Facilities

Relationships Between Higher Education, Community Critical As Life-Long Learning Blurs Boundaries
---
---
---
Related Topics:
Comments