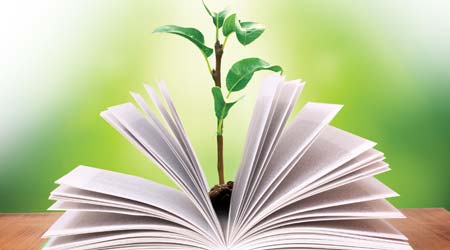 How Sustainability Increases Student Performance
Incorporating aspects of sustainability - like living plants and solar panels - into school curriculum gives students hands-on, visual learning tools.
Solar panels line the roofs, LED light fixtures cover the ceilings, "smart boards" hang from the acoustically sound walls, and low emitting carpet tiles run across the floors. In recent years, green schools around the country have entirely redefined the concepts of innovation and hands-on learning, making a strong case for the ability of these buildings to improve student performance and occupant health.
Resolving typical performance issues such as high energy consumption, poor indoor air quality, or inadequate ventilation have become an industry norm, and green schools now strive for the valedictorian spot by integrating sustainable strategies that go above and beyond. Many of the top innovative strategies seen in K-12 education are inspired by rating systems, such as LEED, WELL, Living Building Challenge, Net Zero Energy Certification, and others. But these innovative schools also explore features such as renewable energy generation, sustainable curriculums, and green facility operations.
Showcasing innovation
The Center for Green Schools at the U.S. Green Building Council defines a sustainable school by its success in three pillars: the reduction of environmental impacts and costs, the improvement of occupant's health and performance, and the increase in sustainable literacy. These three pillars can be seen in action on over 2,000 certified LEED schools. The most notable projects have found means to incorporate sustainability in ways that provide continued benefits once school is back in session.
Green Street Academy, for example, has set the bar high by achieving LEED for Schools Platinum certification in 2016. Performing a major renovation on an abandoned Baltimore City high school, Green Street was able to reuse the majority of the structure and focus on the essential updates. Many of the innovative strategies tackle more than one issue at once — from solar panel canopies that generate a percentage of the school's energy while offsetting the heat island effect of the parking lot, to on-site community fruit orchards and farms that transform the grounds into a 'living laboratory' for the students. According to the academy's website, "These things are accomplished through team-based, sustainability-focused projects, ranging from the simple, like integrating language arts, science and art to write and design an eco-themed storybook, to the complex, like integrating all four subjects and the hoop farm to define and solve the problem of hunger in Baltimore."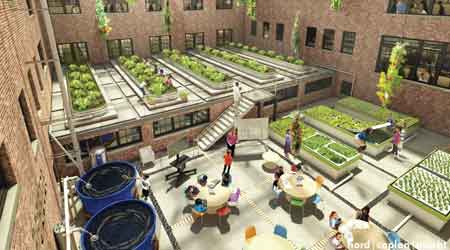 Rendering shows ways of incorporating elements of Green Street Academy's sustainable building into the school's academic curriculum. Credit: Hord Coplan Macht
Green Street Academy is a prime example of the possibilities of incorporating environmental concepts and values into a curriculum. Green Street has also already reported impressive academic achievement gains, showing a 37 percent increase in 'highly effective' rated math scores as well as 12 percent increase in reading scores for their student body.
Sustainable strides are also being made at the portfolio level by Baltimore City's 21st Century Schools program. Every new or renovated city public school is required to attain at minimum a LEED Silver certification, and as one completed project follows another, many are exceeding requirements and meeting LEED Gold with no additional costs of higher achievement. Design standards and specifications are one and the same for each school, administered as a streamlined sustainability program.
The portfolio approach of 21st Century Schools allows for these facilities to work together and strive for sustainability as a district-wide priority. In addition to the environmental literacy incorporated within the curriculum, key features of the program include implementation of a strict energy management plan, enforcement of green cleaning and integrated pest management policies, and organization of recycling efforts. Each of these strategies present an opportunity for maintenance and facility personnel, as well as student and teacher, involvement.
The interests of students and the school communities within Baltimore City should not be underestimated. Student groups have spearheaded a majority of these measures by organizing events such as campaigns against plastic foam litter or clean up days in the school gardens, and they are involved in leading tours of the new schools to showcase green features. It is clear that the infusion of sustainability within the curricula has resonated with the students and motivated personal and collective actions.
Continue Reading:

Sustainable Educational Facilities

How Sustainability Increases Student Performance

WELL Building Standard Promotes Student Achievement, Health

How the Living Building Challenge Promotes School Sustainability
---
---
---
Related Topics: