Higher Education Facilities Embrace Student Collaboration, Skills Training
New strategies of teaching and learning are necessitating new facilities strategies as well. Here's how one college is rising to the challenge.
Campus ecosystems are increasingly being shaped by the confluence of business and academic activities. By 2020, two-thirds of estimated job openings will require postsecondary education or training, according to U.S. Bureau of Labor statistics. But the career opportunities presented by digital technology is leading students to focus entrepreneurial enterprise, incentivizing growing numbers of middle and high school students to skip advanced education and start their own businesses. As a result, both colleges and universities are taking measures to reposition the campus ecosystem as an engine of growth for community development, especially as higher education's dependence on local sources for funding grows. The focus in some cases is on collaborative learning and practical, job-related skills.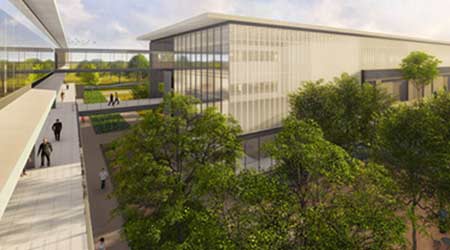 Image courtesy of Perkins + Will
Questions are being raised about the value of a traditional degree. As tuition and fees have climbed, colleges and universities are pricing themselves out of the reach of most American students at a time when demographers observe a downward trend in the number of students available to attend college.
According to The Hechinger Report, there are 2.4 million fewer college students in the United States than there were just six years ago. Therefore, institutions must work harder to fill seats. One way institutions are responding is by offering "experiential" learning along with campus life amenities to help students map out a successful career path. According to the same study, a high percentage of community college students intend to transfer to a four-year college, but few actually do, in part due to lack of incentives to transfer to universities. Students must manage demands related to work and family and encounter difficulty getting their completed credits recognized at the four-year school.
For students planning to enter the workforce for the first time or those changing career paths later in life, competency-based instruction can instill employable skills guided by business and industry partnerships with an investment in training and development programs. A skills-driven curriculum becomes more paramount as Generation Z faces an even greater skills gap, where many of the jobs and careers they will take do not even exist yet. To help address this challenge, the design of higher education spaces should take cues from learner-centered teaching principles. Because this new pedagogy is future-focused, team-oriented, and solution-centric, it demands design of empathetic learning environments that emphasize personal engagement. By encouraging student self-instruction in tandem with knowledge management, the learner-centered approach fosters dialogue in which teachers ask students what they are learning. Ultimately, students are motivated by having some control over learning processes through application of what they're being taught.
Training a New-Collar Workforce
When the economy is strong and unemployment low, community colleges typically experience declining enrollment. This is not the case for Collin College, a community college district based in Collin County, Texas, which has recently seen a surge in enrollment. Its enrollment growth is attributed to increased demand for new-collar workers — those with specific skills necessary to fill niche positions often related to digital technology. Career-readiness programs, including industry-recognized credentials and associate degrees in applied sciences, are targeted toward growing this new-collar workforce.
Collin College is partnering with Allen Economic Development Corporation to develop a 340,000-square-foot Technical Campus dedicated to instruction in advanced manufacturing, health sciences, logistics, and other high-demand, high-wage workforce areas, with spaces that allow highly specialized training and formal education opportunities to cater to this burgeoning workforce.
The design reflects input from local professionals into each program's career field in allied health, robotics, bio-medical repair, information technology, construction and automotive services. Collaborative high-bay labs and learning yards are configured into three "trade bars," which simulate a real-world workplace, where various trades work together to create a modern, interdisciplinary environment. The "main bar" accommodates a conference center, classrooms, administration, student services, and an early college high school. When fully occupied, the new campus will expand learning opportunities for 7,100 students seeking to enter the job market with training on the equipment they will use in their industry.
Colleges and universities are continuously revamping career services and redefining their roles in student career planning. They are responding to the evolving needs of learners by offering real-world, competency-based education. A significant part of this pivot is due to the rising number of employers viewing critical thinking and problem-solving as top transferable skills in the workplace.
Whether entering the workforce for the first time or changing careers, today's students must learn employable skills guided by business and industry partnerships. To accommodate this shift, new curriculums should be future-focused, team-oriented, and solution-centric, driving demand for and design of non-traditional learning environments that emphasize collaboration and entrepreneurial, employable skills.
Richard Miller, FAIA, LEED AP BD+C, is partner and higher education practice leader at Hoefer Wysocki. As associate architect for this landmark instructional facility, Hoefer Wysocki is collaborating on the design of the new Collin College campus.
---
---
---
Related Topics:
Comments