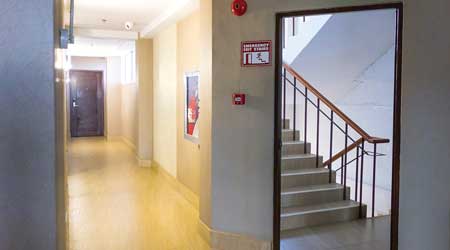 Strategies to Go Touch-Free with Interior Doors
From restrooms to meeting rooms to stairwells, there are many simple options for retrofitting interior doors to make them touchfree and safe.
Moving deeper into the facility, there are high-use spaces such as meeting rooms and classrooms that are typically outfitted with swinging doors. These areas probably would not merit a full electromechanical solution. One of the major hardware suppliers has published a "Touchless Continuum," illustrating that as components move from a low-touch mechanical option to a touchless fully automated solution, the integration price increases as well. As there are often more doors on the interior of the building requiring hands-free options, building owners may consider looking at options at the lower to middle tiers of the continuum, if financially viable.
There are very simple options such as arm and foot pulls that allow for use of alternative body parts to open or close an opening. Door manufacturers have become innovative with push/pull paddle trims, allowing actuating an opening with an arm or even a hip. There are no valid reasons to continue the use of a round door handle on any door trim. Round doorknobs do not meet any accessibility requirements, they are difficult to grasp for individuals with arthritis, and they require tight grasping and longer contact to operate the opening.
With the current promotion in "well" buildings, there has been a strong promotion on the use of stairwells in lieu of elevators for vertical transportation in low- to mid-rise buildings. These stairwells often require physical fire separations from the surrounding building, meaning the doors are fire-rated and are almost always closed. A simple solution is to equip these openings with electrified hold-open devices that are tied back to the building fire alarm system. In the event of an emergency, the doors automatically close, but in a day-to-day operating scenario, building occupants can move from floor to floor without touching the openings.
Of all the places we think about germs, public restrooms are top of mind. There has been an ongoing debate on what would transpire if you removed the doors to group restrooms and simply provided vestibules for modesty. If this is something your facility is exploring, there are quite a few implications that must be addressed and mitigated.
Removing group restroom doors would introduce the unsavory noises of public restrooms into adjoining spaces. If occupants don't mind hearing a toilet flush constantly throughout the day, this may be an acceptable option. Door removal also requires the introduction of additional exhaust requirements to keep negative pressure in the restrooms to prevent odors from escaping. The increased exhaust requirements introduce additional load on the HVAC systems to make up for the additional air being exhausted. Removing the doors may seem like a simple fix but may require an engineered solution to address the retrofit as a whole.
Any door included in a retrofit should be evaluated for adaptive reuse as an automated opening. For simple screw-on solutions, such as an arm or foot pull, solid core or metal doors typically work better due to a substantial core material for attaching or affixing the low-touch hardware. However, there are instances where hollow objects may be used to route wiring and cabling to power and control these touchless solutions.
Derwin Broughton (dbroughton@kai-db.com), AIA, NCARB, is principal at KAI Design.
Continue Reading:

Doors / Door Hardware

Considerations for Successful Hands-Free Door Implementation

Strategies to Go Touch-Free with Interior Doors
---
---
---
Related Topics: