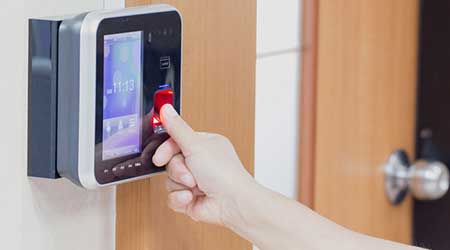 SIDEBAR: Specification Solutions for Door Hardware
Part 3 of a 4-part article on door hardware and security upgrades
One important consideration when specifying door hardware for institutional and commercial facilities is making sure the hardware's load capacity and cycle frequency match the door's size and weight, as well as its frequency of use.

For example, maintenance and engineering managers might be tempted to specify lower-cost hardware by selecting an ANSI Grade 3, light-duty product when the installation requires an ANSI Grade 1, heavy-duty unit. The light-duty part will cost less, but it inevitably will result in lower reliability, more frequent repair and replacement, and higher costs in the long run, not to mention greater occupant dissatisfaction.

Managers also should keep current codes and standards on hand. When specifying door hardware for optimum access and security, these resources help match a product's rated number of cycles and robustness with the intended application.

Managers also should communicate with the vendor to learn about the full range of capabilities of available products and services, including accessories. For example, commercial electronic door operators are rated light, medium, and heavy, depending on the door size and cycles per hour.

They might have non-standard features, such as timer-to-close functions and auto-reversing if an obstruction stops the door. The timer-to-close function is particularly useful for lift-truck traffic, since the driver can concentrate on the area ahead in often crowded loading docks and warehouses without becoming distracted by closing the door after entering.


Continue Reading:

Product Focus: Door Hardware

Door Hardware: Locking Down Security and Performance

Several Factors Contribute to Specification Decisions for Door Hardware

SIDEBAR: Specification Solutions for Door Hardware

PRODUCTS: Door Hardware
---
---
---
Related Topics: