Reviewing Door Hardware Security
Part one in a two part series on door hardware security.
OTHER PARTS OF THIS ARTICLE
Pt. 1: This Page
Pt. 2:
Selecting The Proper Door Hardware
Pt. 3:
Maintaining Door Hardware
Pt. 4:
SIDEBAR: Factoring In Outside Issues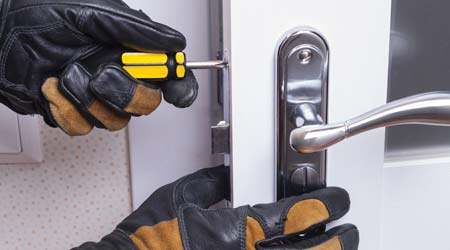 An increased recognition of threats to institutional and commercial facilities has motivated maintenance and engineering managers to review and upgrade their security measures. For most managers, this means examining key protective components, such as door locks, closers, operators, and card readers. Manufacturers have responded

to these threats with a continuously growing range of products. Managers are faced with so many products that it has become increasingly difficult to easily select those best suited for an application. To address the security challenge, managers should not start with a particular door hardware component or even hardware costs. They first need to consider the function of the door.
What are the security requirements of the door? Is its function to prevent unauthorized access to the building or is the security requirement more about protecting building occupants and contents?
Not all door security devices perform all of these functions well. By first developing an understanding of the security needs of the facility and the role of doors, managers can avoid a number of common problems.
Mismatched security levels
Not all buildings or all areas within a building have the same security requirements. Yet it is common for the same level of door security hardware to be installed on all entry ways. While standardization has its benefits, universal standardization without consideration of the security needs creates two unintended consequences — inadequate security in some areas and interference with operations in others.
When security measures interfere with operations, building occupants will find ways to get around them by propping open doors, disconnecting alarms and duplicating and loaning keys. Occupants also will hold open doors for others, even if they do not know them.
Loading docks, which typically are used for deliveries and as a route for trash disposal, are one of the most challenging areas in any building. In bad weather, they become non-designated smoking areas. As a result, a steady flow of traffic moves through the doors that connect the dock to the rest of the building, and two things happen. Users defeat security systems, and door hardware wears out.
Managers need to make security decisions based on the door's location, which means surveying the building and identifying threat areas and levels. Managers then need to match hardware selections to those security requirements.
Managers seeking to match door hardware to the security requirements of a given application should consult industry product standards. For example, Underwriters Laboratories developed UL437 as a security rating measure for door locks and other locking items. Among other things, the standard identifies the required time a particular type of lock must be able to resist different types of attack. To meet the standard, a lock must resist forcing or drilling for a minimum of five minutes and withstand picking and impressioning for a minimum of 10 minutes.
American National Standards Institute (ANSI) Standard A156.30 sets standards for determining which lock cylinders are high-security based on preset criteria and standardized testing. This standard addresses issues such as strength, durability, entry resistance and one widely overlooked factor — key blank control. Without strict restrictions on key blanks, anyone with access to a key blank and an original key could easily make a duplicate key and defeat other existing security measures.
Certification by the (ANSI) and Builders Hardware Manufacturers Association (BHMA) indicates the product has been tested according to the standards and testing procedures and has been certified to meet those standards. Any manufacturer can claim to have a high-security cylinder or other door hardware component, but unless it meets the standards and carries the certification of BHMA and ANSI, those claims are meaningless.
Continue Reading:

Doors

Reviewing Door Hardware Security

Selecting The Proper Door Hardware

Maintaining Door Hardware

SIDEBAR: Factoring In Outside Issues
---
---
---
Related Topics:
Comments