Ensuring Door Hardware Delivers Effective Security
Careful planning and follow-through ensure locks, handles, hinges and operators protect occupants and help achieve security goals
OTHER PARTS OF THIS ARTICLE
Pt. 1:
Active Shooters: The Role of Door Hardware
Pt. 2: This Page
Pt. 3:
Effectively Integrating Door Hardware and Access Control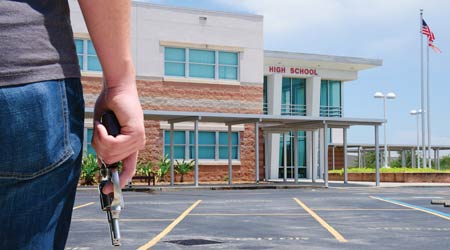 To ensure door hardware delivers effective security, managers need understand the product manufacturing process and ensure installers follow recommended procedures. They also need to follow up with careful inspection and testing.

Manufacturers of locks, handles, hinges, and operators use ANSI/BHMA A156. Specific door specification standards for steel door manufacturing are contained in ANSI/SDI A250.8. The best specifications for locks and doors might not provide adequate security if the installation is sub-standard. Initial testing and regular follow-up with inspection, testing and adjustment are necessary parts of any security program.
For example, if a facility installs a less costly, substandard Grade 3 mortise lock intended for light-duty residential use where a Grade 1 product should have been used, the decision compromises security. Or a Grade 1 mortise lock, which can sustain 1 million cycles to failure, might not provide proper security if the gap between the door frame and jamb is uneven or too wide.
Wide gaps can result in several problems. The latch does not engage the strike plate fully. Even longer strike plate screws are ineffective. A gap that is too wide makes forced entry easier. The latch guard can be defeated.
Installers should check to see if light comes through the gap more at one place than another. This gap should be even. The proper gap for an exterior security door is 1/8-inch.
Door jammers, either from the handle or the sill to the door, can protect lever, knob, and paddle handles, as well as crash bars. Another way handles provide security is with the use of a tamper alarm hung on the handle and actuated by a vibration sensor.
Commercial hinges have four screws on both the jamb side and door side, while light-duty hinges have only three. An intruder can remove hinges to enter a facility unless the pins are tamper-proof. A tamperproof hinge has a pin inserted through the hinge into the jamb so an intruder cannot remove the door even if the hinge pin is removed. Another type of tamperproof hinge has no pin on the outside, Instead, it has a locking pin that cannot be removed, or it has hidden hinges.
A hanging door can become out of square, causing uneven gaps. As a result, the door eventually sticks and is damaged from applying too much force. The test for door squareness is to measure the diagonals — top left to bottom right and top right to bottom left. These measurements should be within 1/16-inch if the door is square. This tactic minimizes security problems that can result from a gap that is too wide. Emergency doors with crash bars that do not reach far enough across the opening, have loose hardware, are misaligned, do not engage the strike plates, or otherwise do not meet standards might enable quick forced entry.
Continue Reading:

Door Hardware

Active Shooters: The Role of Door Hardware

Ensuring Door Hardware Delivers Effective Security

Effectively Integrating Door Hardware and Access Control
---
---
---
Related Topics:
Comments