You Might Like
On FacilitiesNet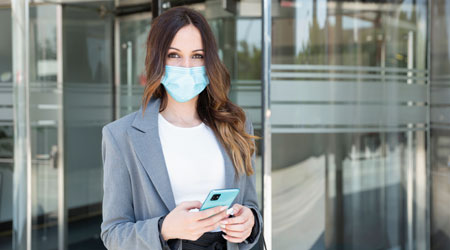 Door Technology: New Era Brings New Challenges, Opportunities
COVID-19 prompts facility managers to revisit door hardware and access control to meet evolving demands of facilities.
As institutional and commercial facilities emerge from the COVID-19 pandemic, facility managers are preparing their buildings to ward off remaining threats from the coronavirus, its variants, and other illnesses. Their goal is a healthy environment for employees and other occupants. Healthy employees are more productive.
To achieve this goal, assessing locks, hinges, closers, and access control systems is a crucial step. It offers the opportunity to install updates introducing the latest touchless systems, barriers against infection, and guards against cryptopiracy. By staying abreast of advances in touchless technology, as well as new and updated performance standards, managers can increase the health of their facilities' work environments.
Touchless technology
The latest generation of touchless access devices includes improvements in remote control fobs, proximity cards, and motion-sensor-controlled high-traffic door hardware with cameras. These devices not only control physical access. They also can identify access attempted, granted and when, and they control unauthorized access attempts by activating tamper alarms. The server and cameras maintain a historical record that identifies current occupants in case of a fire or other emergencies to ensure safe and timely egress.
Drive-through door openers can be set for timed closure to activate closing automatically in case the user forgets to close the gate or door. The user can override automatic closure by clicking on the fob to close the door. Managers can combine solar power with these improvements to curtail energy use.
Managers can convert mechanical locks to electronic locks by having technicians replace the lock cylinder, which costs less than replacing the whole lock. Cellphone-activated electronic locks allow the user to activate the lock at the door or remotely without touching the door hardware. An occupant who leaves a door unlocked can activate the lock remotely via the cellphone.
Cellphones also enable technicians and security personnel to remotely monitor motion-sensor cameras. The cellphone alarm notifies the user that the camera saw motion within its coverage area.
Cellphone lock applications do not require manual keys, electronic card keys, fobs, or keypad codes. The user just opens the door with a click of the cellphone.
Technicians can install wireless cellular touchless systems, which operate efficiently without extensive wiring. Using solar and battery backup, a wireless system with cellphone towers can back up a wired system in the event of a power failure.
Wireless cellular systems are less expensive. Instead of wiring, they rely on TCP-IP, virtual private network, or radio-controlled signal transmission to and from the access control field panel and server. Technicians can move them from one location to another when building or securing-area entry points changes. Wireless systems with battery backup can operate during a power failure or emergency.
Options for high-security areas include biometric readers using touchless facial recognition, cameras, and picture identification cards. Also, a technician can wire intercoms to the electronic strike so that once the system identifies a caller in a remote unattended area, the technician can open the door lock remotely. Combining touchless facial identification, high-security computer activation, and antiseptic wipes for servers, printers, screens, and keyboards, managers can provide a safe environment.
Germicide applications offer managers an option to provide touchless capability while continuing to use current door or elevator control hardware. Custodians can prevent cross-contamination at touchpoints by applying germicides to door hardware finishes. Efficient antimicrobial copper alloy finishes are available for knobs, handles, push buttons and touch plates. Tests have shown they reduce microbes by 58 percent.
Improvements in continuous-gear hinges include better concealed or surface-mounted designs. Today's improved spring-loaded closer hinges close automatically to comply with codes regarding fire doors.
Continuous gear hinge models are available that meet UL fire door specifications. With no gap between the door and frame and no hardware visible with the door closed, they are more difficult to locate and tamper with.
Hidden standard or custom-sized swinging, bi-fold, or sliding doors — regular or heavy duty — appear to be bookcases or other fixed room appointments. Invisible hinges models include rod and plate, in-floor, and at-the-top, which allows the door to pivot at the top and bottom.
Touchless closers ensure a door closes and latches without intervention by an occupant before, during, and after passing through. The user also can activate them remotely. Grade 1 versions for commercial, high-traffic entries resist forced opening and closing, and they comply with ADAAG.
Features such as separate, independent latch, sweep speeds, and backcheck intensity, as well as hold-open or no-hold-open options, ensure a range of effective applications. For example, a faster latch speed than a sweep speed gives time for a user to get through the opening, and providing a rapid, positive latch speed with greater force ensures a normally locked door will close and latch. This application is particularly useful in conditions where exhaust air systems create a differential pressure from one side of the door to the other. Without this rapid latch speed, the latch would hit the strike and stop, failing to lock and compromising security and safety.
Time and attendance data recorded by access control systems verifies work hours, prevents clocking in for another employee, entering or leaving at unauthorized times, and the system can link it to payroll generation. The access control database contains a complete historical time-stamped record of each access attempt, authorized or not, and monitors forced openings and too-long-open incidents, recording the event, and activating alarms.
Continue Reading:

Doors / Door Hardware

Door Technology: New Era Brings New Challenges, Opportunities

4 Post-Pandemic Opportunities for Upgrading Door Hardware

Spotlight on Door Hardware Standards
---
---
---
Related Topics: