You Might Like
On FacilitiesNet
Facility Manager Cost Saving/Best Practice Quick Reads RSS Feed
Biophilia and Wellness Front and Center at Amazon's HQ2
February 5, 2021 - Contact FacilitiesNet Editorial Staff »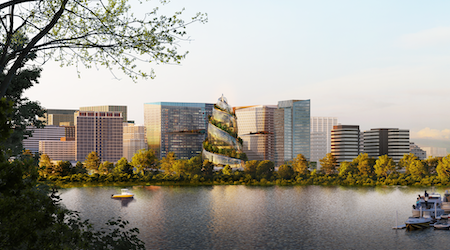 The proposed second Amazon headquarters facility, known as HQ2, in Virginia is drawing admiration and giggles due to the site's central double-helix tower with a vegetated roof. Though it is only in the concept stage, the design reflects some of the trends in commercial office which have picked up pace as a response to the pandemic.
The glass 350-foot double helix tower swirls upwards, flanked on three sides by more conventional 22-story office towers covering 2.8 million square feet. The towers are planned to meet LEED Platinum requirements, will feature all-electric HVAC, and plan to be run entirely on purchased renewable energy.
Designed by the same architecture firm, NBBJ, as the Seattle headquarters campus the central helix serves a similar function as the Seattle campus' domes. Using biophilic principles, both structures mimic shapes found in nature. Both heavily use or plan to use plants to foster a connection with nature, which has been found to improve everything from human health to productivity. And both are permeable semi-public spaces which create an amenity for company employees to have a third-space to think and collaborate, as well as create a fluid connection between the company and its community. If the project moves forward as proposed, the helix tower would have two exterior walkable paths, which would be quite the vertical gain for a hike, tapping into the trend of workplaces deliberately supporting health and wellness.
Planned ground-level amenities on the 2.5 acres of open space would include retail, restaurants, a dog run, a childcare center, and a food truck court. A planned 20,000-square-foot flex space would support large to small gatherings for the community or the company, according to Amazon.
With Arlington's little over average rainfall per year, it will be interesting to learn how the angled vegetated roof of the central tower manages stormwater. Several renderings of the retail environment at grade show sunken gardens, which may be functioning as bioswales for the riverside campus.
Naomi Millán is editor of Building Operating Management.
---
Comments