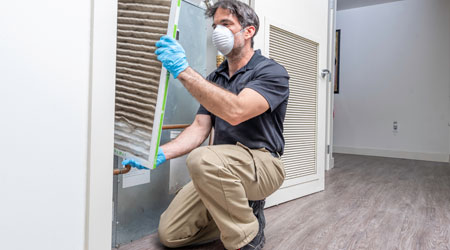 HVAC Upgrades Nationwide Target COVID-19
As the COVID-19 pandemic continues to stress hospitals nationwide, all types of institutional and commercial facilities are struggling to upgrade processes and equipment in an effort to stem the spread of the coronavirus and create safe, healthy workspaces. Here's a sampling of upgrade projects from around the country that facilities have undertaken recently:
Winston Salem/Forsyth County (N.C.) Schools have a new tool to help slow the spread of COVID-19 — bipolar ionization. The bipolar ionization process produces positive and negative ions that essentially stick to and deactivate airborne particles such as viruses, mold and bacteria.
Anoka (Minn.) Hennepin Schools also invested in bipolar ionization. The district used $1.4 million from the CARES Act to upgrade ventilation systems and install bipolar ionization technology. "What we're trying to do, along with the masks, the washing of hands, the social distancing, and the scrubbing of the air with the ions, trying to create a safer place for the students and staff and community to be in our buildings," says Steve Anderson, the district's director of building and grounds.
In Los Alamos, N.M., the Larry H. Walkup Aquatic Center recently closed for HVAC system repairs in order to maintain COVID-19 safety measures and state requirements. With the increased COVID-19 air circulation requirements, Aquatic Center staff have been monitoring the HVAC system to ensure a safe environment. The air circulation requirements have moved past acceptable levels and require the facility to close for the safety of our patrons and staff.
The Medina City (Ohio) Hall recently received a new heating and cooling system. The equipment. was purchased with CARES Act funding for $128,500. The system will provide better air filtration in city hall, which made it a qualifying purchase for COVID-19 funds.
Dan Hounsell is editor of Facility Maintenance Decisions.
---