You Might Like
On FacilitiesNet
Solving Acoustics With Design, Location, Planning
Last of a 3-part article exploring the acoustical challenges in open workspaces
OTHER PARTS OF THIS ARTICLE
Pt. 1:
Managing the Acoustics of Open, High-Performance Workplaces
Pt. 2:
Managing Transition to Open Workplaces and Drawing from 'Toolkit' of Acoustics Products
Pt. 3: This Page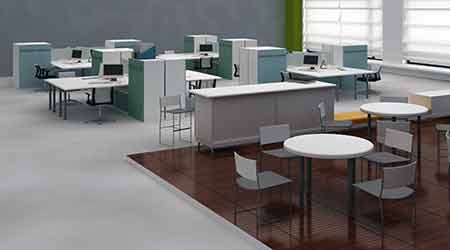 Design and location, which often go hand in hand, are also keys in addressing acoustical challenges in high-performance workspaces. Good planning can touch on such issues as the type of work being done in a space, the variety of personalities involved, and the need for quiet or private-conversation areas.
Pollock notes that "layout and careful planning at the early design concept phase is important and can set the stage for minimal distractions." Some areas are natural places for voice sounds given their function, he says. These include reception areas, break-out areas around meeting and conference rooms, and lounges. The type of work that individuals or groups of people are doing in a space needs to be considered, Pollock says. For example, some offices have all sales and marketing staffs and others are call centers with people on phones all day. Both types of workspaces lend themselves to noisy environments. Other offices, however, have engineers who do heads-down, quiet work.
In addition, Herriott says, individual personalities come into play. Some workers are extroverts who want to be around coworkers and aren't bothered by noise. Others are introverts who don't want to be disturbed, and it only takes one or two people nearby to cause problems for that individual. "So when we're dealing with different departments, we look at job responsibilities and at the types of individuals in that space," he says.
Having quiet zones where individuals can work is a must, Herriott says. One strategy is a dedicated quiet zone, where it's understood that people are to be left alone to concentrate without any distractions such as phones. "And then you don't have to put everyone in an office," he says.
Having spaces where individuals can have private conversations is also important. Phone rooms, for example, can be as simple as a small room with a phone, desk, and chair, or they can resemble the phone booths once common across the American landscape. Both designs provide privacy for conversations and ensure that coworkers nearby aren't interrupted.
Space where groups of individuals can meet to talk without disturbing others is also part of good design and planning. These meeting or huddle rooms are located away from the open office area, allowing for robust conversations.
"You need to understand the type of work being done when you're at the early stages," Pollock says. "Working with the architects at these stages is important because you don't want to put people next to each other who shouldn't be next to each other." The best time to figure out where necessarily noisy spaces like collaboration spaces or where quiet focus spaces should be located is during the layout and bubble-diagram phase of a project, he says, to minimize any unnecessary and troublesome adjacencies. "Locating these groups directly next to one another could certainly create distractions for those involved in focused tasks," Pollock says.
For all the planning, design, and other elements involved in addressing acoustical challenges in high-performance workspaces, perhaps the most basic and least expensive is good manners. Being considerate enough to use closed spaces for group discussions or individual telephone conversations is basic employee etiquette, Pieleanu says. While some workers may not want to get up from a comfortable chair to temporarily move to one of these spaces, it's the considerate thing to do, she says.
"People need to be mindful of their environment," Pieleanu says. "People need to be aware that there are other people around them and that there are no barriers between them."
Desiree J. Hanford, a contributing editor for Building Operating Management, is a freelance writer who spent 10 years as a reporter for Dow Jones. She is a former assistant editor of Building Operating Management.
Continue Reading:

Acoustics

Managing the Acoustics of Open, High-Performance Workplaces

Managing Transition to Open Workplaces and Drawing from 'Toolkit' of Acoustics Products

Solving Acoustics With Design, Location, Planning
---
---
---
Related Topics:
Comments