Office Slump Looks Different This Time
Rising vacancy rates echo those of past real estate busts. but new construction numbers show the industry has put on the brakes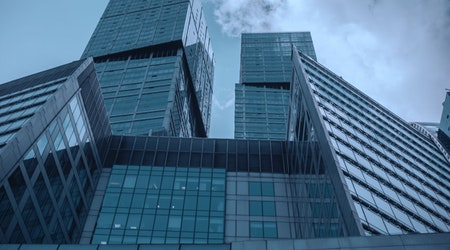 Those hoping for a 2003 turnaround in the office market probably will have to put their expectations on hold for awhile. Industry predictions show that building vacancy rates in the coming months will likely echo 2002's double-digit numbers. What's more, high jobless rates are likely to keep demand for office space weak for the next 24 to 36 months.
"We're bumping bottom in leasing now, and we expect 2003 to be just as tough as 2002," says Casey Wold, chief operating officer and chief investment officer for Trizec Properties Inc., a real estate investment trust. He's not looking for a recovery until 2004.
But if a real estate slump following an industry boom sounds like an old story, this time the script has a twist: New construction has slowed dramatically from 2001 levels. That should make the current slump both shallower and briefer than it might have been if development proceeded full speed.
"The market is healthier than in 1990 because easy financing then made it easy to overbuild," says Stephen Schlegel, chief operating officer of Jones Lang LaSalle's Leasing and Management group. "Now lending institutions have tightened their belts."
One industry marker is whether building owners are able to make their payments. During the early 1990s, even well-established properties were going into default. "Today, not too many are really squeezed for financing," says Jim Costello, senior economist with Torto Wheaton Research in Boston.
Slowing Down
Plans for new construction are down in almost every major market. "There's no demand for new office construction anywhere, even for build to suit, because it is so cheap to rent," says Schlegel.
That's not to say that there won't be new space coming onto the market. Plenty of construction projects broke ground before the economy began to shrink and are still poised to come on line. That's the bad news; the good news is that the industry has clearly hit the brakes when it comes to new construction.
That slowing is evident in reports from a range of sources; even though databases for different real estate organizations vary widely in the number of new construction projects and total square feet they track, all show the same trend.
Data from Grubb and Ellis Co., for example, shows that 63.5 million square feet of new office space was completed during the second quarter of this year, says Bob Bach, national director of market analysis. This marks a significant decrease from new construction's peak during the third quarter of 2001, when completed new construction amounted to 124.9 million square feet.
Maria Sicola, senior managing director for Cushman and Wakefield, says 54 million square feet of new office construction will have been delivered by the close of 2002. About 43 million will be located in suburban markets.
Those numbers begin to trail off sharply in coming months. An estimated 29 million square feet of new construction is expected to be completed by the end of 2003, with 14 million square feet of that space located in central business districts. Only 6.2 million square feet of space is expected to be completed by the close of 2004, with 3.2 million square feet located downtown and 2.7 million located elsewhere.
The overabundance of already scheduled construction is compounded by the significant amount of existing space that is coming back to the marketplace, particularly outside the boundaries of central business districts, Sicola says.
In coming months, the rare development might surface in the form of small suburban projects or a very specialized build-to-suit deal, says Costello. Speculative construction will be virtually nonexistent.
Nationwide, building owners are contending with average vacancy rates in the neighborhood of 12 to 13 percent, and they are facing worst-case absorption rates in the negative 10 to 15 percent range, Schlegel says.
As a result, future growth will be more measured and will move forward at a more sensible pace, he said. Jones Lang LaSalle figures show that 34 million square feet of new construction will hit the ground in 2003. Another 22 million square feet will be completed in 2004, with 30 million square feet to follow in 2005.
Despite the construction slowdown, overbuilding is still a risk, especially in suburban markets. From an investment perspective, PricewaterhouseCoopers' 2003 Emerging Trends in Real Estate ranks the downtown office market fifth in development potential and seventh in overbuilding risk. It ranks the suburban office market seventh in development potential but second for risk of overbuilding.
Bright Spot
Even though overall demand is diving, Washington, D.C., remains a calm spot on the rough office market sea. With spending on defense and homeland security on the rise, businesses are scurrying into town.
As a result, Washington is the only major market with single-digit vacancies. It tops Emerging Trends' list of the real estate markets to watch.
There are high hopes that the whole region will benefit from new government spending.
"Government is the hot tenant right now," says Dale Anne Reiss, global director of Ernst & Young's real estate hospitality and construction practice. "You know it's not going to go out of business."
New York, southern California, Chicago and Boston — all 24-hour cities — round out the report's top five real estate markets to watch.
On the flip side, the report calls Houston, Denver, Phoenix, Atlanta and Dallas to the carpet for a repeat pattern of overbuilding flat, sprawling topographies.
As the office market adjusts to the changing economic climate, tech-heavy markets like San Francisco, the Pacific Northwest, Atlanta and Dallas are likely to feel the sharpest pains, market watchers say.
With the tech bloodletting apparently over on the West Coast, San Francisco, another 24-hour powerhouse, and Seattle, a 24-hour wannabe, still have the ingredients to make them attractive for investment, though not necessarily new construction, the report says.
With Dallas and Atlanta, it's another story. How that story will end depends on whom you ask.
With vacancy rates nearing 30 percent, both markets have suffered double and triple blows, Sicola said. The job market continues to contract, and downsizing tech businesses persist in returning existing space to the marketplace. Still, new construction continues.
In the Dallas suburbs alone, for example, more than 1.5 million square feet of new speculative office development was completed during the first quarter of 2002. Another 1.1 million square feet of speculative office space is under development, according to figures published by The Real Estate Center at Texas A&M University.
Even if predictions for a 2003 upturn in the national economy prove accurate, the office market isn't likely to follow suit immediately. Even when corporations start hiring again, they will fill existing space before committing themselves to any expansion. It will take up to a year and a half for the need for space to catch up with actual hiring, sources say.
As long as the economy remains iffy and there's a possibility of war, the office market is likely to remain soft.
"Companies want to feel the economy is solid before leasing more space," Reiss says. "Real estate trails the economy up, and it trails it down. When there is a marked change, the office market will turn around nine to 18 months later."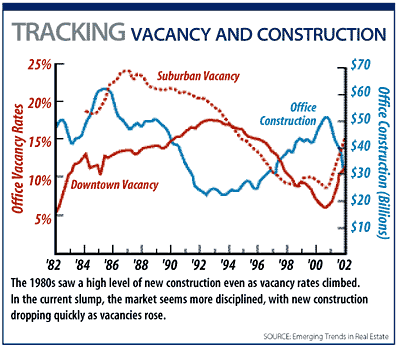 Lynn Proctor Windle is a free-lance writer who has written extensively about real estate.
---
---
---
Related Topics:
Comments