You Might Like
On FacilitiesNet
How Parking Owners Can Prepare for Electric Vehicles
Follow these four steps parking owners should take to retrofit their facilities for electric vehicle compatibility.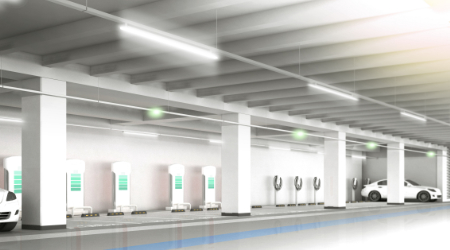 General Motors and Ford are starting to make electric vehicles (EVs) a significant part of their operations. By 2035, General Motors is aiming to produce only electric vehicles, with 30 new plug-in models arriving by 2025, according to CNBC. That is a $27 billion dollar commitment overall. Ford is investing $22 billion to electrify 40 percent of its vehicles by 2030 and recently debuted the F-150 Lightning all-electric truck.
As the automotive industry makes a switch to electric vehicles, parking facility owners are tasked to answer a critical question: What are the steps that need to be taken to retrofit pre-existing spaces for EV charging stations? Many parking facilities already offer some electric recharging services, but most garages were designed to serve gas powered vehicles. This means that they have limited access to electricity and could even lack the necessary infrastructure that would allow electric vehicle charging stations to operate. This is an important matter as parking facilities are designed to operate for at least 50 years, so tens of thousands of existing garages and lots will face this infrastructure-relevant challenge soon.
Any parking facilities that are being designed now are almost invariably going to include electrical infrastructure for the potential installation of charging stations. In fact, "some city governments are already amending their code requirements mandating that 25 or 30 percent of any new parking garage or surface lot needs to be EV changing capable or ready," according to David Rich, Vice President of Project Development at Rich & Associates Parking Consultants.
New construction projects for parking facilities are being designed to receive larger electrical capacity. Creating a strategy on routing power throughout a garage to charging stations in a logical way is also becoming a part of new parking construction. While this is not a simple process, it is manageable. However it is not as easy to go back and retrofit pre-existing garages with a higher electrical capacity, but there are several steps that need to take place before decisions are made about redevelopment.
First, from an electrical perspective, there is going to have to be an analysis done on the size and capacity of the incoming electrical service to those structures, according to John Abraam, Principal at Strategic Energy Solutions, Inc. There will be situations where a structure does have adequate capacity and somewhere the incoming service would need to be increased. "You might have a very small electrical service that powers pole mounted lighting," Abraam said. "That could be your only electrical load on a surface lot." In this case, capacity would most likely need to be increased.
The second step is to figure out how to accommodate the installation of chargers in routing conduit and other underground infrastructure to get power to those chargers at an existing structure that wasn't built for it. Based on the construction type it may be difficult to core through existing concrete structure to run conduit through it based on reinforcing steel locations for example.
"You've got to be strategic about how you route these things," Rich said. "It's easier in new construction than it is in existing and it is easier in a precast concrete structure in some respects than it is in a caste-in-place post tension structure."
The caste-in-place post tension structure has tension cables in the concrete slabs that you have to be careful of coring through because if you damage those strands you can impact the integrity of the structure.
The third step in retrofitting a parking garage or space for electric vehicles is deciding what type of charging station you want to put in. There are three different levels to charging stations associated with the charge rate. Level two is the most common. Level three is a higher capacity, faster charging station. Pin configurations on EV chargers differ by manufacturer. These variables are important for parking owners to consider when retrofitting.
Once all of these decisions are made the fourth step is to put together a set of construction documents that would go out to contractors to bid for the installation. Coordinating with architects, engineers, electricians and so forth to put together everything is the final step. This process is of course very particular to the parking space you are dealing with and is based on the previous three steps.
Chris Miller is assistant editor, Facility Market.
---
---
---
Related Topics:
Comments