You Might Like
On FacilitiesNet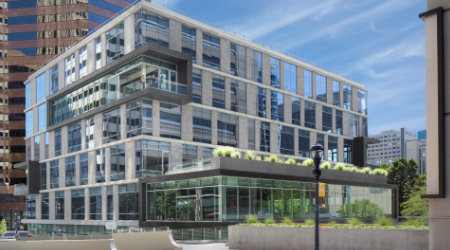 How Adaptation Breeds Creativity During Pandemic Construction
The construction of a new building in San Diego during the height of the pandemic shows how challenges can be turned into opportunities.
The construction of a new building in San Diego during the height of the pandemic shows how challenges can be turned into opportunities. /DECK-->
With the COVID-19 pandemic causing labor shortages, material pricing escalation, and reduced demand for traditional office workplaces, it's become a great accomplishment when a new commercial office building is completed. One such example is a next-generation office in a part of downtown San Diego that hasn't seen a new commercial product in more than 25 years.
The six-story, 90,000 square-foot project at 450 B. Street, combined with the developer's existing 20-story tower located at 451 A Street, completes "Twenty by Six," a creative office center designed to offer the essentials for employee health, productivity and quality of life. Built over the course of the pandemic, the project offers a key into how COVID-19 has transformed office design, as well as a case study on how innovative and solution-based construction can adapt to the ongoing challenges of urban development amid the pandemic.
Adaptation # 1: Demolition & Precision
From day one, the project team's work was cut out for it. During the preconstruction phase, the project team executed a complex demolition plan for an existing two-story branch bank structure and plaza level deck in a busy downtown area. Because no vibrations could pass to the adjacent LeBeau tower during demolition, the team had to saw cut along the grid line at sidewalk level to separate the two structures. To reduce the impact to tenants in the neighboring buildings during the construction phase, a tower crane was erected and materials were placed onsite with a just-in-time delivery method. Bank facilities, offices, and other amenities had to remain open, requiring crews to operate in off-peak hours and make other concessions to limit the disruption to daily life.
Below ground, there were additional challenges. The underground parking garage was to remain open to the public. At the same time, the team excavated a 40-by-60-foot shaft for a new elevator core, in addition to causing height and space limitations. The job site and equipment used would require the precision of a surgical operation to ensure safety and optimize productivity. A remote-controlled demolition was employed, successfully demolishing 7,600 tons of concrete and saving $50,000 in labor and equipment costs. Time and cost savings were important, but when it comes to demolition, safety is the first priority. The robotics kept the public and crews safe during this challenging operation.
Further, the new 90,000-square-foot structural steel building sits above the three-story underground parking garage, which received extensive structural reinforcing and seismic upgrades using fiberglass-reinforced polymer (FRP) while remaining in operation during all phases of construction. The extensive structural reinforcing and seismic upgrades to build on top of a three-story underground parking garage won the 2021 Innovative Structural Technologies Award by the Structural Engineers Association of San Diego.
Adaptation # 2: A Global Pandemic
The pandemic led to a series of opportunities and challenges the team had to work through, including a shortage of materials and labor. In March of 2020, the entire supply chain was shut down, causing severe procurement delays that are still impacting materials today. Price escalation across the board and notably long lead times affected niche product types, such as roof insulation and metal deck. To mitigate this challenge, the team conducted a thorough analysis of product types and suppliers and were able to find the best alternatives with lower costs and shorter lead times.
In terms of labor, when the pandemic first hit, many projects were paused, creating an influx of available contractors. As projects came back online, there became a labor shortage, creating competition, especially for those with trade expertise. The team relied on its history and long-term relationships with local trade contractors to identify available talent to respond to our needs. Trade contractors should be considered partners and an extension of the project team, and the project team should be committed to helping them succeed and perform to their highest potential. Details should be thoroughly communicated well in advance, carefully planning the work and managing expectations. This dynamic will foster a spirit of camaraderie, trust, and respect.
Adaption Breeds Opportunity
The team's flexibility was equally as important as the flexibility of the project's design. The pandemic has intensified the competition in the commercial office market as developers compete with employees' desire to work from home. For "Twenty By Six," the vision was to take the best of the "at-home" environment and elevate it to a vibrant experience that prioritizes health and wellness, flexibility, and community.
To accomplish these goals, the team was tasked with blending the indoor and outdoor environments. This resulted in offices being equipped with balconies, each floor having operable windows and installing floor-to-ceiling windows that provide natural light deep inside the interior. A pocket park on the ground-floor level includes a fireplace lounge, private meeting spaces and a shell for a future café that will encourage community gathering.
Built to achieve LEED Silver certification, the project features energy-efficient lighting, HVAC systems and water conservation systems, in addition to being made primarily of steel, the most recycled material in the world.
The team adapted to a series of challenges and developed a unique and functional building, externally and internally. The result is a destination that will attract both tenants and visitors, many of whom might not have been interested in the area prior.
Andy Feth is project executive at C.W. Driver Companies.
---
---
---
Related Topics: