4 Tough Questions to Ask About Renovation Planning
Top-tier facility managers share best practices about how to do successful facility renovation projects on budget and on time.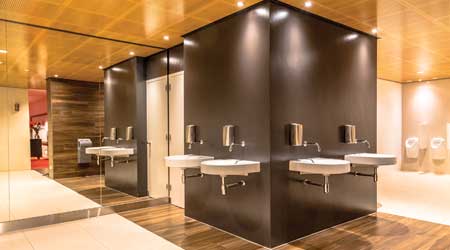 One fact that makes facility management both stimulating and difficult is that no two buildings are alike. And nowhere does that reality come into play more than in a renovation. Major work on an existing building means dealing with one-of-a-kind existing conditions as well as a unique history that ranges from equipment performance to occupant experience. And because it's an existing building, facility managers are often front and center in planning.
But even though every renovation is one of a kind, there are a variety of issues that commonly arise on renovation projects. Weighing costs and benefits, selecting products, managing schedules, incorporating overarching objectives like sustainability, figuring out what occupants need — questions involving issues like these arise no matter what type or age of building is involved. There are no pat answers to these questions, no textbook that can be counted on for guidance. Instead, choices are made based on experience.
When it comes to experience, more is better. Here's a look at how a group of experienced facility managers address four common renovation questions.
1. Where can you make budget cuts?
Planning a renovation requires facility managers to perform a series of difficult balancing acts. Probably the most difficult is weighing big-picture or long-term goals against short-term cost pressures.
Although factors such as image, brand, and goals are important, cost and performance cannot be underestimated when it comes to standards. Fortunately, it's often not an either-or situation. Rather, facility managers find ways to accomplish goals on both sides of the equation.
Munich Reinsurance America was renovating a space that had a rectangular table, forcing people sitting at it to turn their heads 90 degrees when someone was talking or looking at a screen. Christopher Walinski, building operations manager for Munich Reinsurance America, and his team wanted a trapezoidal table so people could see each other without turning their heads at an awkward angle. They found it through a manufacturer they work with, but the table was expensive. The manufacturer was able to get a table that was one-third the price and then added the table to its product line, prompted by the questions Walinski and his team asked.
"If something has a slight premium but the return is great, you have to consider it," Walinski says. "I may want to spend more in this area and have to save money in that area to balance the budget. [The manufacturer] found a way for the table to be one-third the cost, and that saves me money in one area and gives me money for another area. It's a matter of looking at the budget holistically."
Knowing where to spend more money and perhaps where to spend a bit less is a matter of being a good steward, says Peter Strazdas, associate vice president of facilities management, Western Michigan University. For example, it may make sense for some areas to have lower quality carpet because it will be damaged no matter how much is spent on it, he says. When it comes to chillers, however, spending less may not be a good idea.
2. What will occupants think?
When facility managers are weighing where to save money, it's worthwhile to look at the proposed cuts from the perspective of the building's occupants. A prime example is the money spent, or not spent, on the restroom. It's easy to decide to spend less on a restroom upgrade so that more can be spent on a more high-profile space, Walinksi says. But that's a mistake. He believes that substandard restrooms paint the entire building as substandard. "You have to put money into the restroom that reflects the care you put into the rest of building," Walinski says. "The renovation has to be something better than, 'I saved all my money on the restroom.'"
Strazdas is also aware of the importance of perceptions of public spaces like restrooms. "There are more footprints in hallways, vestibules, entryways, and restrooms, and fewer in classrooms and faculty/administrative offices, so spend the money where the footprints are," Strazdas says.
Sometimes, relatively small changes can have a major impact. At Western Michigan, as at many educational institutions, students are interested in gender-neutral restrooms. "That's a major topic out here," Strazdas says. "And there is nothing about gender neutral in the code book, but the book does have unisex information." One low-cost way to deal with the situation: Strazdas converted faculty bathrooms into unisex bathrooms with new signage and locks on the doors.
3. How green should your building standards be?
Although they were once considered an additional step in developing product standards and specifications, green standards are now the norm. The University of Texas at Austin has an office of sustainability that is involved in standards development and that advocates for LEED standards to be used as much as possible, says Nathaniel Atkins, technical review team manager in project management and construction services, University of Texas at Austin, adding that more and more, green standards aren't cost prohibitive.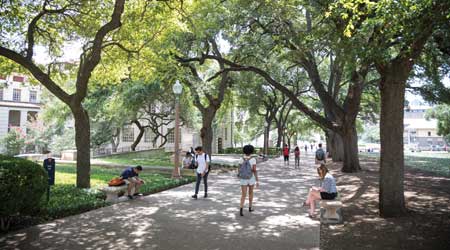 (At the University of Texas at Austin, the facility management team relies on feedback from the people on campus to inform in-house standards.)
A good example is LEDs. At one point, they weren't affordable, says Strazdas. Fast forward to today and LED lights are more affordable and so newer buildings have them, he says. The cost is higher on the front end but the lights will last 15 to 18 years and so labor, product, and energy costs will be lower in the long run, he says.
"What was new in green products is now mainstream," Strazdas says. "Some of it costs a little bit more now, and some of it is the same price as non-green products. We should all be doing it."
Incorporating green standards into product specifications doesn't need to be complicated but the goals for doing so should be clear, says Scott Offermann, managing director, critical environments of global occupier services for Cushman & Wakefield. Whether it's being carbon-neutral, LEED-certified, or meeting healthy building standards, everyone involved in the specification work needs to know what is trying to be achieved, he says. From there, products should be identified that meet or fit those standards.
Something as basic as deciding whether trash cans are needed at every desk or whether one central trash can will work has pros and cons, Offermann says. "You have to know what you want," he says.
4. What role should vendors play in setting product standards?
How much of a role should product vendors play in developing in-house standards? Different facility managers offer different answers to that question. The University of Texas at Austin relies on the people on campus, seeking feedback from people maintaining the products, Atkins says.
"We wouldn't want to subject our standards to industry trends," he says. "We want to know what people are seeing out in the field."
But one of the reasons Offermann says it's good to talk to vendors and suppliers is exactly the fact that they are dialed into the industry. They are also likely to know information such as what the industry norm is for warranties, the differences among warranties, what the service options are, and the quality of service provided, he says. "[Vendors] aren't the sole factor but they are an influencer," Offermann says.
Vendors are looking to make as much money as they can and facility managers are trying to save as much money as possible, but the pair can work together for the betterment of both parties, Walinski says. When he attends trade shows, Walinski gives vendors feedback about what the facilities staff likes and what the challenges are based on conversations he has with his staff.
"I then pass along that information to the vendor and sometimes the vendor can help and sometimes not, but they know they will be my standard until they no longer can meet my needs," Walinski says.
Desiree J. Hanford, a contributing editor for Building Operating Management, is a freelance writer who spent 10 years as a reporter for Dow Jones. She is a former assistant editor of Building Operating Management.
---
---
---
Related Topics:
Comments